Sir Chris Hoy: Is "hugely impressed" with the increase in participation within cycling as target is hit
Sir Chris Hoy discusses the 2014 Commonwealth Games, Sky Rides and an increase in cycling participation.
Last Updated: 11/10/12 4:38pm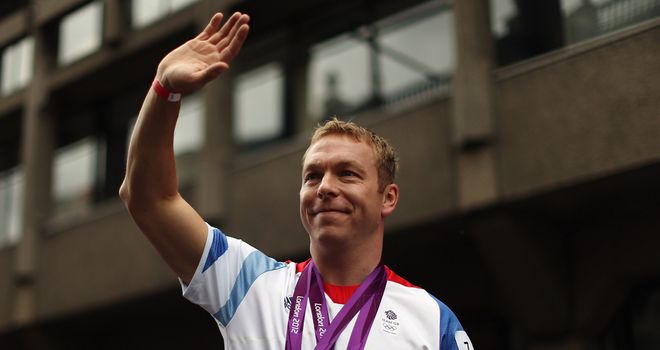 It was in 2008 that British Cycling and Sky set a target to get one million more Brits involved in the sport by 2013 and it has been announced that this objective has been accomplished a year ahead of plans.
Team GB cycling legend, Sir Chris Hoy, told Sky Sports News that he has been "hugely impressed" with the increase in participation.
The six-time Olympic champion believes initiatives such as the 'Sky Ride' events have been a significant factor in encouraging people to take part.
With 5,000 free community bike rides aimed at getting a million more people riding on a regular basis, such events are crucial to the cycling legacy in this country.
Hoy said: "The events are very much like a carnival atmosphere - you turn up there and it is just everyone having fun. It is not a competition; it is a city centre that has been closed down, no traffic and just cyclists really.
"It is people of all ages, kids, adults, cycling enthusiasts; everyone comes down and has fun. It is just a way to try and get people back onto their bikes.
"I spoke to a guy last week who told me his mum had just bought her first bike and she had been inspired by the Olympic performances of the whole team and she learnt to ride a bike aged 65. These are the kind of stories it is lovely to hear."
Future
With the focus of London now in the past, Hoy is eyeing another home event in two years' time in which he could bow out of the sport in a very fitting way.
He added: "Next for me is hopefully the 2014 Commonwealth Games in Glasgow - that would be a dream ending to my career. Two more years of hard work obviously but it would be a fantastic way to go out.
"But I will wait and see if my body can keep going. It is a big strain, with injuries and just maintaining the form. Staying in the team too, when standards are so high, there are lots of talented young riders coming through so you have to battle for places but hopefully I will be there."
Yet with the pressure to keep adding to his illustrious career on the track, what continues to drive the Scottish hero?
"For me, it is just about enjoying it," he said. "Even the Olympic Games in London were just about enjoyment because not many athletes get the chance to compete at a home Games, so it was just a once-in-a-lifetime opportunity.
"Nothing can top the London Games. To have these home Games, and to experience the home crowd, and home support, the atmosphere- nothing will get better than that, so I'm happy to finish my Olympic career with those Games."