UCI set to meet to draw a line under Lance Armstrong affair
The UCI will meet on Friday seeking to draw a line under the Lance Armstrong affair.
Last Updated: 26/10/12 10:32am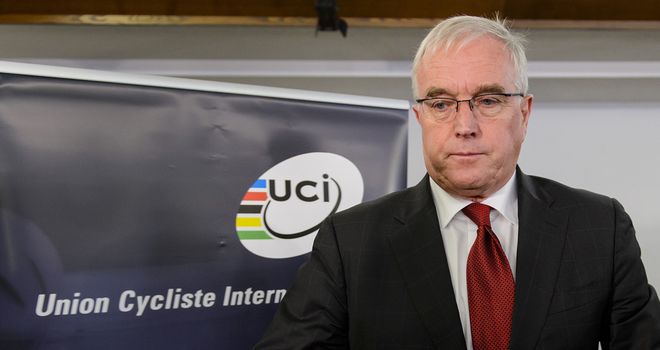 A special meeting of the UCI's management committee was called to discuss the "exact sporting consequences" of their decision to strip Armstrong of his seven Tour de France titles.
Whether the 1999 to 2005 Tour titles and prize money will be redistributed will be considered, but many believe more direct action is required following a saga which has ripped a hole through the heart of the sport.
In an open letter published on Facebook, Greg LeMond, winner of the 1986, 1989 and 1990 Tours - and now the only American winner of the race - was critical of UCI president Pat McQuaid and his predecessor Hein Verbruggen, who remains honorary president of the organisation.
"I want to tell the world of cycling to please join me in telling Pat McQuaid to resign," LeMond wrote.
"I have never seen such an abuse of power in cycling's history - resign, Pat, if you love cycling. Resign even if you hate the sport."
McQuaid on Monday insisted cycling had a future and stressed his determination to be part of it when announcing the UCI would ratify the decision of the United States Anti-Doping Agency investigation to ban Armstrong for life and strip him of all results since August 1998.
Armstrong and his United States Postal Service team ran "the most sophisticated, professionalised and successful doping programme that sport has ever seen," a 1,000-page USADA report concluded.
The 41-year-old declined the opportunity to cooperate with USADA but, following Monday's ruling, removed the reference to his seven Tour wins from his Twitter profile.
At this week's route presentation for next summer's 100th Tour, Armstrong's sequence of seven straight wins were marked using asterisks.
Tour director Christian Prudhomme believes no-one should replace Armstrong as winner, as few racing in the era are untainted by the use of performance-enhancing drugs.
The latest to admit doping is Bobby Julich, who was a team-mate of Armstrong's at Motorola and has left his role as Team Sky race coach.
Team Sky reiterated their zero-tolerance approach to doping after USADA published their reasoned decision and Julich could be the first of a number of departures from the British team, home of 2012 Tour winner Bradley Wiggins.
Julich placed third in the 1998 Tour, but has now expressed remorse and hope for the future after revealing he used blood-boosting agent EPO between August 1996 and July 1998.