Team Sky add Shaun Stephens to coaching staff ahead of 2013 season
Team Sky have announced the appointment of Shaun Stephens as a Performance Coach ahead of the 2013 season.
Last Updated: 14/11/12 11:14am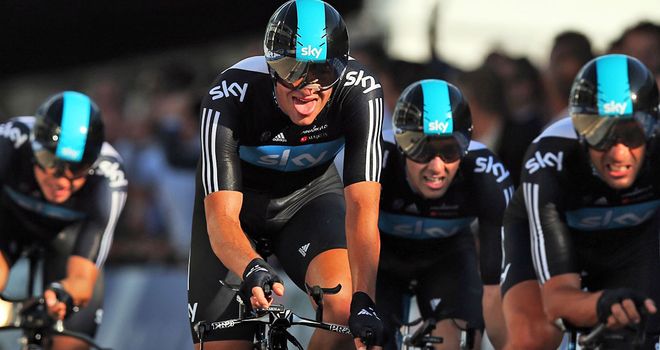 The 37-year-old Australian is regarded as one of the world's best triathlon coaches and recently worked as Head Coach to the Australian national team at the London Olympic Games.
Stephens will leave his current roles as Head Coach and Programme Manager at the Australian Institute of Sport and Triathlon Australia to work alongside Team Sky's Head of Performance Tim Kerrison in a full-time capacity.
Kerrison, who arrived at the team with a background in swimming, is highly praised for the work he has done in helping propel the team towards success in the Tour de France.
Shaun Stephens said: "I'm very excited about the opportunity to work as part of the Team Sky programme.
"I have watched their outstanding performances with interest over the last three years and have been impressed by how they have assembled their team and introduced innovative performance strategies to cycling.
"I'm looking forward to contributing to the team and bringing in new ideas through my sport science and coaching knowledge of triathlon.
"I believe it is Dave Brailsford's vision of introducing a diversity of skill sets into Team Sky, and ultimately the cycling staff and riders' embracement of new training and competition strategies, that has given Team Sky a competitive advantage over other teams.
"I look forward to the challenges of understanding the intricacies of a new sport and assisting Team Sky build upon the enormous success they have already achieved."
Team Sky Team Principal Dave Brailsford said: "Shaun's appointment continues Team Sky's commitment to assembling the very best coaching and support staff in the world, without being afraid to look beyond the arena of cycling.
"It is incredibly exciting to be bringing fresh expertise into the sport, and further reinforces this team's desire to break new ground in the field of performance.
"The team has taken tremendous strides since the appointment of Tim Kerrison, who came from swimming, and we hope that with Shaun on board we can maintain our position as the world's number one cycling team."