Jess Varnish looking to bounce back from Olympic disappointment in Glasgow
Jess Varnish will continue her bid to move on from her Olympic disappointment at the Track World Cup in Glasgow.
Last Updated: 17/11/12 10:29am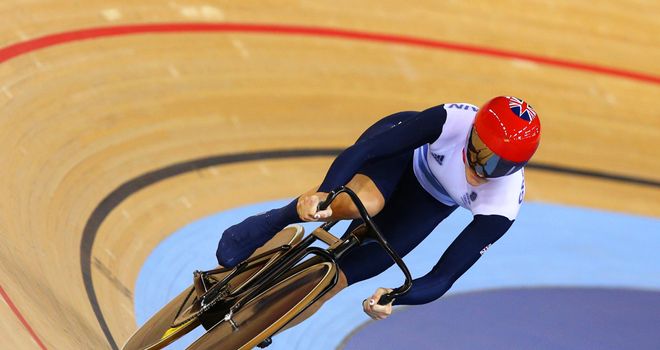 The Bromsgrove rider, who will be 22 on Monday, focused on the specialist starting spot in the two-woman, two-lap team sprint to claim a place in the Great Britain team for London 2012.
But her Games ended in tears on the opening day of competition at the velodrome as she and Victoria Pendleton were relegated from the competition and denied the opportunity to ride for a medal due to a takeover infringement.
China's pair suffered the same fate and for Varnish the disappointment was exacerbated by the International Cycling Union amending the takeover regulation ahead of the first international event post-London 2012, the Cali Track World Cup in October.
Varnish told Press Association Sport: "I don't think I'll ever be given the opportunity to race in that kind of velodrome ever again. I'm still going to feel upset and angry about it.
"The UCI have changed the rule now. You have to go over the team pursuit line to make it a full lap, whereas before there was a changeover area, so it was a bit more vague.
"That is even more frustrating, because they saw there was an issue. What happened at the Olympics is why they changed that."
While many of her team-mates, Pendleton included, revelled in Olympic success, Varnish returned to training and travelled to Colombia to race again.
"The best thing I could've done was to get back and get racing," she added.
"It was one of the hardest things to do, just to put it behind me, but going to Cali is the best thing I've done. I feel like I've come out of it quite well.
"Hopefully I'll get to the next Olympics and it will be a different outcome."
Varnish has a busy four-event schedule in Glasgow, including riding in the team sprint with Becky James and 500metres time-trial on tomorrow's opening day of competition.
Having won bronze in Melbourne in April, the 500m is a target for February's Track Cycling World Championships in Minsk, while the individual sprint and keirin are Olympic disciplines Varnish could ride in Rio de Janeiro in 2016.
Now Pendleton has retired to grace different wooden boards, the floor of Strictly Come Dancing, Varnish is looking to expand her repertoire.
"I put so much work into team sprint and into that one lap, so now I'm quite excited about being able to put more time into the individual events," she said.
"I'm doing everything I possibly can. It's all about keeping my options at the moment."