Laura Trott happy to be back in the saddle ahead of Glasgow Track World Cup
Double Olympic champion Laura Trott is relishing a return to normality at this weekend's Track World Cup in Glasgow.
Last Updated: 17/11/12 10:29am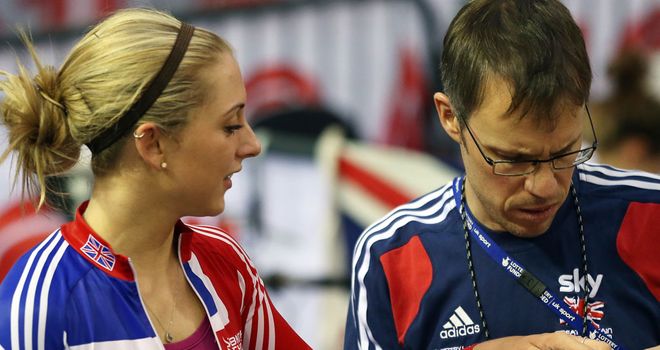 The 20-year-old followed up her double success at the Track Cycling World Championships in Melbourne in April with London 2012 gold medals in the team pursuit and omnium in August.
Her talent on the bike, coupled with her effervescent personality, made her an instant star of the home Games, but now she is enjoying being back on her bike.
Trott had 10 days off after the Games, two weeks on her bike, a week's holiday in Dubai and then returned to full-time training after the September 10 Olympic and Paralympic athletes' parade.
She said: "I just wanted to get back on it; it was the only thing that felt normal.
"It was about going and doing what I enjoy most and that's riding my bike.
"You could be on your own, you could be out there for three, four hours, not thinking about anything other than 'oh this is a nice day' or 'it's really windy down this road'."
Trott insists that, bar a few commercial deals and invites to parties and events, her life remains similar to before the Games, although she was amazed at first by the reaction at home in Cheshunt, Hertfordshire.
"It (life) changes as much as you want it to. For me, I liked my life before anyway.
"The only thing that's different is I've got more sponsors and people know me more."
She added: "When I first went back I couldn't even walk my dog down the street without someone saying 'well done' or 'can I have a photo?"
The team pursuit was Trott's main Olympic focus and the moment she won her first world title, as an 18-year-old in Apeldoorn, Holland in March 2011, was the time she realised she could be a London 2012 champion.
The status of Olympic champion means the pressure is off for this weekend's competition.
"For us it's just about going out there and enjoying it and taking in a home crowd," she added.
"Now people actually know us, so they're coming to see us. Whether we win or lose, the crowd are going to support us either way. "It's going to be a really nice feeling."
Trott will start as 'man one', the lead-off rider, in the three-woman event, assuming Joanna Rowsell's role. Rowsell is absent following a virus, with 18-year-old Elinor Barker, the world junior road time-trial champion, taking her place.
Trott added: "It's a different job. It's getting the team up to speed. It's a bit of a hit and miss. I hope I get it right."
Dani King, the third member of the Olympic-winning trio which set six consecutive world records, said: "It's all right. She's got me on her wheel at man two to sort it out if she goes too quick."
All four girls will ride for the Honda Dream Team next year on the road, so should soon know each other well.
For now, Glasgow will be their first experience as a team, Barker having been introduced last week.
King said: "Our first session was a week ago, so it's very last minute, but it's great to have Elinor on the team.
"She's doing amazingly well and we're really looking forward to stepping up and racing.
"There are so many girls coming through, it keeps us all on our toes and training hard all the time. It's great we've got so much depth in women's cycling.
"None of us are going to become complacent, we never have. I think that's why British Cycling is so successful, because everyone's striving to be in our shoes.
"We're all training really hard and super motivated to carry on towards Rio and this is the first stepping stone towards that."