Ed Clancy ready to fill Sir Chris Hoy's shoes as part of Great Britain track team
Ed Clancy is unfazed as he prepares for the first part of a British Cycling sprint experiment in Glasgow on Friday.
Last Updated: 15/11/12 3:41pm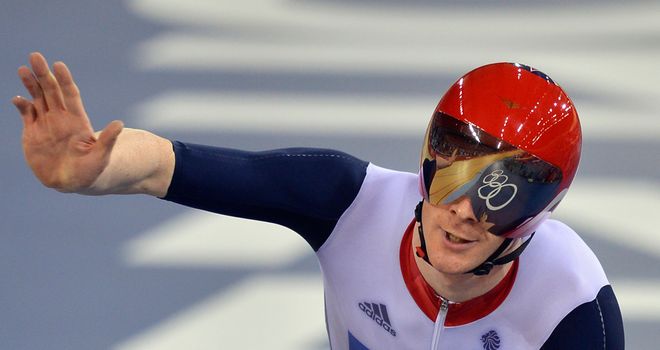 The 27-year-old Yorkshireman, twice an Olympic team pursuit champion, will take Hoy's position as third man in the three-lap team sprint alongside the Scot's fellow London 2012 champions Philip Hindes and Jason Kenny.
Perhaps fortunately for Clancy, who is uncertain how he will fare, his predecessor will not be in attendance at the first international competition at the Sir Chris Hoy Velodrome. Hoy, who is taking a break from racing, will be present on Sunday.
"To try to compare yourself to Chris Hoy, you're only ever going to fail," Clancy said.
"I'm having an all right career so far and I haven't won a third of the stuff he has. I just try to be myself and do the best I can. I'm not going to fill his shoes, it's a hard job."
Clancy's speed has long been impressive, his proficiency highlighted during the six-discipline omnium competition in which he won Olympic bronze, and he is riding the team sprint this season for some respite from the 4,000m event.
"I've always been pretty quick, but it's all relative," added Clancy, who is concerned he will lose contact with Hindes and Kenny from the start.
"I'm really quick compared to the other endurance guys, like Geraint Thomas and Pete Kennaugh, but I come into the team sprint and it's like a completely different sport.
"I'm a complete novice. I'm absolutely flat out off the line trying to keep up with these boys.
"I don't know how I'm going to get on. I could be riding around on my own for three laps because I don't get on from the start or it could go well.
"I'm trying to have no expectations, just go in with an open mind. I'll just see what happens."
The experiment is to continue until February's Track Cycling World Championships in Minsk, where Clancy also plans to ride the one-kilometre time-trial.
The kilo event is one in which Clancy, who is regarded by many as the best team pursuit rider in the world, has excelled.
In London his time in the omnium of one minute 00.981 seconds would have placed him third in the Olympics in Athens, when Hoy won before the event was removed from the Games, and would have been fast enough to win the world titles from 2004 to 2008, three of which were won by Hoy.
His inclusion is another mark of British Cycling's innovation and succession planning and Clancy insists he has nothing to lose.
"I'm not going to reinvent man three this weekend, but we'll see where we're at," he said.
"I'm going to pursue it right up to the worlds. I'll give it everything I've got team sprint wise and I'll try to ride the kilo as well as a side project.
"I guess after the worlds I'll see how it's gone, if it's worth investing a bit more time.
"We'll have a few numbers by then, we'll know what weight I am, what peak power I can make and also how well I can still ride a team pursuit. We'll see."
For now Clancy will not be joining Hindes and Kenny, the Olympic sprint champion, in the gym lifting heavy weights as he hopes to continue to race on the road and in endurance events.
"I don't want to end up like a 90kg sprinter and lose everything I've got team pursuit and on the road," he said.
"Long-term I want to be able to mix man three team sprint with man one team pursuit, schedule depending."
Hoy reinvented himself from kilo rider to sprinter post-Athens, winning sprint, team sprint and keirin gold in Beijing in 2008 at the age of 32.
It is not beyond the realms of possibility that Clancy could do similar.
Ever the modest team man, Clancy, who hopes to continue riding the kilo up until the 2014 Commonwealth Games in Glasgow, is playing down his prospects.
"In terms of riding the sprint, I don't think I'll ever have that fast-twitch kick about me," he said.
"First things first, I'll have a look at man three, kilo as a side project. Sprint and keirin would be one step too far at the moment, but who knows?
"If it does go really well then I'll consider perhaps over time leaving team pursuit alone and trying to ride the keirin as well and go from there."