Sir Chris Hoy has backed Laura Trott to beat his Olympic gold medal record
Sir Chris Hoy has predicted Laura Trott could surpass his Olympic achievements.
Last Updated: 18/11/12 3:52pm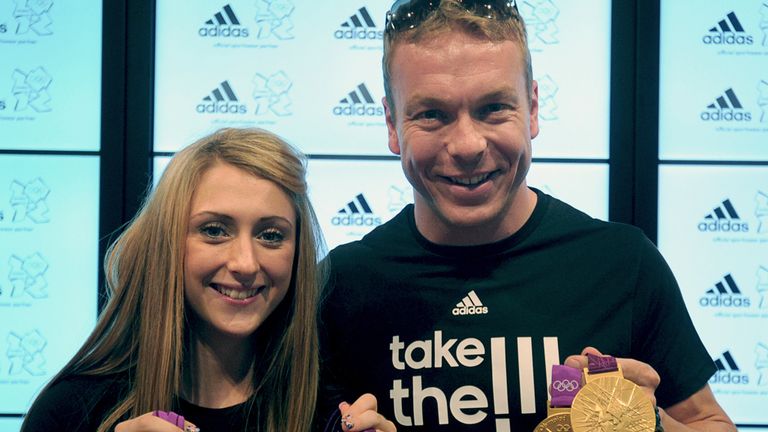 The 20-year-old from Cheshunt won team pursuit and omnium gold at London 2012 as Hoy also won two titles to take his total to six, overtaking Sir Steve Redgrave as the most decorated British Olympian of all time.
Hoy won his first Olympic title in Athens, aged 28, and will not be present in Rio de Janeiro in 2016, when Trott will defend her endurance crowns provided the programme remains the same.
"She's got youth on her side, she's got plenty of time ahead of her and she's got ability, clearly," Hoy said.
"What might stand in her way is the programme selection, you just don't know what (cycling's world governing body) the UCI are going to do to her events.
"Whatever events there are for an endurance athlete like Laura, she has the potential to dominate and she can go on for three more Olympic Games and could easily go on to become Britain's most decorated Olympian."
The six-discipline omnium was introduced in London after a wide-ranging overhaul of the track programme following a dominant showing by Britain in 2008.
But the hosts matched their Beijing gold medal tally on home soil, with seven titles from 10 events. The regulation changes limited the competitors to one rider or team per nation per event and Hoy was overlooked for the sprint event he won in 2008 in favour of Jason Kenny.
Kenny justified the selection, adding individual gold to the team sprint title he won alongside Hoy and Philip Hindes.
The 24-year-old from Bolton also has an opportunity to overhaul Hoy's total of six Olympic golds.
"Hopefully Jason has the confidence now he's shown he's the best in the world that he can stamp his mark on the world sprinting stage," Hoy added.
Hoy was present on the final day of the Track World Cup in Glasgow as a spectator.
The 36-year-old Scot will make a decision on whether to continue to the 2014 Commonwealth Games at the venue which bares his name early next year.
Hoy, who will be 37 in March, is next month to travel with a small group of British Cycling sprinters to a training camp in Perth, Western Australia.
That will provide an indicator if his body can cope with the exertions required to continue until Glasgow.
"I'll try to make (the decision) sooner rather than later; I don't want to leave it too late," he said.
"I reckon I'll know by spring next year, having been away to Perth, done a bit of training, a little bit of racing in January (at the Rotterdam Six Day event).
"I'd be able to see whether my body's dealing with the training in the way that I'd hope."
Hoy's first Olympic gold in 2004 came in the one-kilometre time-trial, two years after winning Commonwealth gold in Manchester.
The chance to bow out with a home Commonwealth Games is a big carrot for him to continue.
Hoy, who will not race in this season's Track Cycling World Championships in Minsk in February, added: "Being here and seeing the stadium hasn't made me want to be there any more.
"I wanted to be there in the first place. I couldn't have wanted it any more.
"You can visualise what it will be like. To have a home Commonwealth Games on the back of a home Olympic Games, not many riders have that chance, so I'm certainly not lacking motivation about making it to the Games. It's about whether my body can hold on."
The first international competition at the Sir Chris Hoy Velodrome has been about succession planning, to a certain extent.
Hoy's place in the team sprint was taken by two-time Olympic team pursuit champion Ed Clancy, who placed second on day one alongside Hindes and Kenny.
Hoy, who watched the first two days' action from home, was impressed by Clancy's performance.
He said: "He's not really had that long to get into the team sprint groove. He did a solid last lap."
As for the fact the arena is now an international venue and a home for Scottish Cycling, Hoy finds it surreal.
"I double take every time I see my name on the side of the building," he said.