Bradley Wiggins keen to defend his Tour de France title in 2013
Bradley Wiggins has revealed he is keen to defend his Tour de France title in 2013.
Last Updated: 13/12/12 2:53pm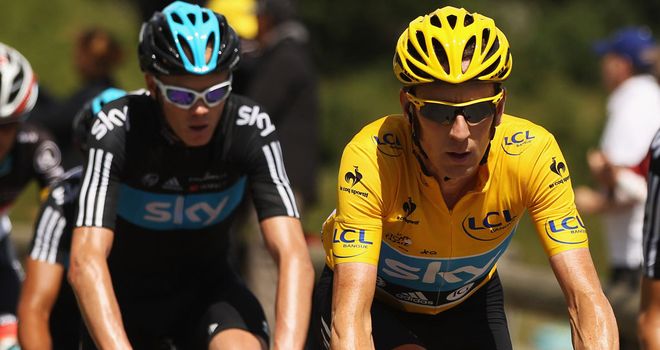 Speculation has been rife in recent weeks that the 32-year-old would play a supporting role to team-mate Chris Froome at next year's 100th edition of the Tour, with his own focus instead falling on the Giro d'Italia.
Team Sky principal Dave Brailsford confirmed that was likely to be the case last month, but in a radio interview today, Wiggins insisted he will be going to France to win.
He said: "I don't know what the situation is in terms of leadership. As it stands, I am probably going to try and win a second Tour de France.
"I don't know, maybe we will have two leaders, which is more than likely I guess.
"How that's going to work with the team I don't know. But my goal is to win the Tour next year. Whether that is realised or not, I don't know really."
The parcours of next season's Tour appears unsuited to time-trial expert Wiggins, yet perfect pure climber Froome.
Organisers were keen to mark the centenary edition with an epic route and consequently prioritised mountain stages over races against the clock.
The Giro, on the other hand, plays directly into Wiggins's hands, with more than 90km of time trials and Italy's more demanding climbs, such at the Passo di Mortirolo and Monte Zoncolan, left out.
Race director Michele Acquarone even appeared to address the Englishman directly when he said at the unveiling of the route: "Our guiding line is that the great champions must be respected, and every champion must be given space to express himself."
Wiggins became the first Briton to win the Tour in July, but did so courtesy of help in the high mountains from Froome, who was clearly the stronger climber and appeared capable of leaving Wiggins behind.
Wiggins said at the time he would be happy to reciprocate Froome's sacrifices at a later Tour - and that aligned with his stated aim of turning attention to the Giro d'Italia and Vuelta a Espana in a bid to win all three grand tours before retirement.
The plan appeared all but sealed last month when Brailsford, who will ultimately decide Team Sky's leadership at the Tour, said: "It does look as though the plan going into next year, which has still not completely been signed off, is that the Tour of Italy would be a very good target for Bradley and leave Froomey then to focus on the Tour de France."
Although keen to defend his title, Wiggins said that if he is overlooked in favour of Froome, he would ride loyally in the service of his team-mate.
He said: "Whatever the team strategy is, we all support that, otherwise you don't take the start line because there will be somebody else that is willing to fulfil that job.
"It's a case of you do what is asked of you on the day, whatever that decision is."
Wiggins also refused to rule out going for victory in both the Giro and Tour.
He added: "Whether I do the Tour of Italy before it, as I have said, that is still undecided. All will be revealed in the coming months I guess."