Yorkshire's Tour de France success delights Team Sky rider Ben Swift
Ben Swift is delighted the 2014 Tour de France will be starting in Yorkshire.
By Nick Howes
Last Updated: 14/12/12 12:25pm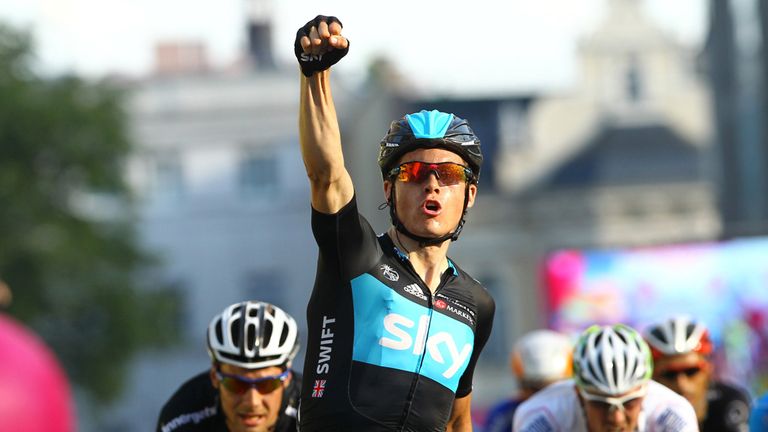 Tour organisers the Amaury Sport Organisation confirmed that the British county will host the first opening two days of racing on July 5-6, before the race moves south for a stage in southern England, which is set to culminate in central London.
Swift, from Rotherham, is ecstatic at the prospect of riding on familiar roads and hopes Team Sky's success over the last three seasons will have helped influence the decision.
He told www.teamsky.com: "I'm over the moon that the world's biggest bike race is coming to Yorkshire, and until the 'Back le Bid' initiative was launched, I never dreamed the Tour would ever start in my home county.
"It's going to be amazing for the region, a massive honour, and I'm sure everyone in Britain is going to embrace this now.
"You only have to see the crowds that turned out in London in 2007 when the Tour started there, and cycling has boomed in the country since then.
"The crowds at the Olympics road races were absolutely phenomenal and I'm sure that will be the case again in 2014.
"This news is going to take cycling to another level in the UK, inspire thousands more people, and hopefully we will play a key role in that, just as we have done over the last three years."
Home pride
Swift feels the Yorkshire roads are more than capable of hosting the world's best riders, and will be doing all he can to get himself selected in two years' time.
He added: "Yorkshire has got lots of places that are absolutely perfect for cycling and it would be one of the highlights of my career if I was able to take part in the 2014 Tour.
"I'm sure all my friends and family would be out there on the roads watching me, but I have got a lot of work to do between now and then to give myself the best chance of selection.
"With the strength of the squad we have at Team Sky, it's always a massive challenge to be picked for the Tour team, but I'll definitely be trying to do that and my motivation could not be higher. Chances like this don't come around very often."
Swift's first Tour de France appearance came in 2011 and after battling his way around a punishing parcours, the then-23 year old infiltrated a breakaway on the final day of action which saw him lead the peloton onto the fabled Champs Elysees.
"That memory will be with me for years," he added. "The noise was deafening and the massive crowds cheering us on gave us a real lift. I can't wait to sample that feeling again in Yorkshire if I am selected and hopefully I can do the team and everyone proud."