Bradley Wiggins backs Team Sky co-leadership at Tour de France
Bradley Wiggins has insisted dual-leadership of Team Sky at next year's Tour de France is a "nice problem to have".
By Matt Westby
Last Updated: 24/12/12 1:36pm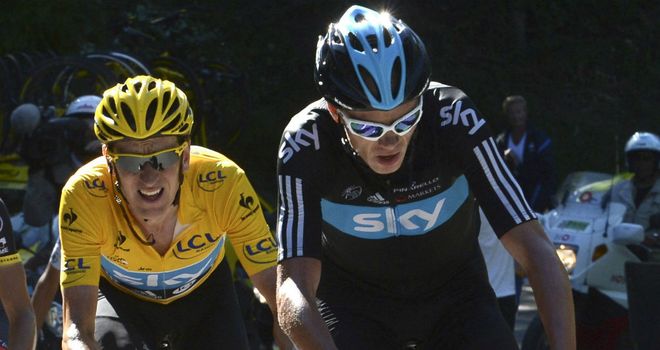 Wiggins created a storm last week by revealing he is keen to defend his yellow jersey at the 2013 race, despite team-mate Chris Froome having already been singled out as the team's intended spearhead.
His comments threw up the possibility of Team Sky taking two leaders to the 100th edition of the Tour, and while co-leadership is traditionally a rarity in cycling, he believes that doesn't make it a bad approach.
He told Sky Sports: "Having two people equally as strong, trying to beat the likes of [Alberto] Contador and Andy Schleck, is going to work in our favour.
"So much is made of having two leaders who could potentially win, but very little has been said about the positive things - we finished one-two this year.
"It always helps to have strength in numbers, so it is a nice problem to have."
With the Tour not starting until June 29 and half a season of racing to take place before then, the final decision on Team Sky's leadership is still months away.
Commit
But should Wiggins be overlooked by Team Sky principal Dave Brailsford, he insists he will loyally support Froome's bid to succeed him as Tour winner.
"It could be any one of us," Wiggins added. "It may be Chris Froome on the day, it may be me. You just don't know in this sport and it is six months away now before that decision is made.
"But once we get on the line, whoever that happens to be, we all have a professional obligation.
"As we saw last year, what Chris did for me, it could be that I will be doing that for him next year, for the team to win.
"If that's Chris Froome, all eight riders will commit to Chris."
Wiggins saw an historic 2012 season capped on Sunday, when he was named BBC Sports Personality of the Year after receiving 30 per cent of the public vote.
With almost half a million people voting for him, speculation is now mounting that a knighthood will follow.
"To be deemed good enough to have something like that is as big an accolade as what the public voted me on Sunday," Wiggins said.
"These things, you can't plan for. You can plan physically to try and win a bike race - all the things after that are out of your hands.
"It is another reward, like Sunday's, that you can't buy. Whether I used the title or not is another thing."