Swimming is big loser as new funding levels for 2016 Olympics in Rio is revealed
Swimming has had its budget slashed while rowing and boxing are winners as funding for the 2016 Rio Games is revealed.
Last Updated: 18/12/12 4:52pm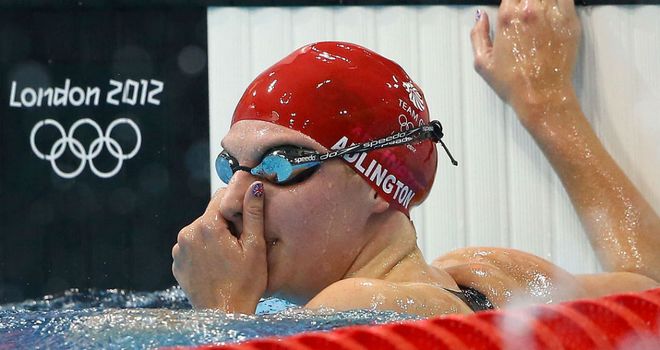 UK Sport announced on Tuesday that a record level of £347m funding - an increase of 11% on London 2012 - will be invested in the new four-year cycle with 80% of that heading for Olympic sports and 20% for the Paralympians.
It is a huge, albeit not unexpected, blow for the swimmers, who have been hit for their disappointing haul of three medals in the summer having been set a target of five to seven.
They have already had three years of funding withheld until it can prove its new blueprint to increase numbers is working. Their budget has been reduced by £4m to £21.4m.
UK sport chairperson Sue Campbell said: "It isn't about being popular. It's about making the right decisions. It's about tough compassion, investing money strategically to have greatest the impact."
Two big beneficiaries are rowing and boxing. GB's rowers remain the best funded elite British athletes and will receive 19% extra money - up to £32.6m - having impressed with four golds, two silvers and three bronzes to exceed their target by three.
Boost for boxing
Boxing's purse will be bulging by an extra 44% with an increase to £13.7m thanks to five medals, including three golds, though £9.55m is conditional on the sport sorting out some internal issues.
Cycling (up 16% to £30.6m) and athletics (up 6.7% to £26.8m) also enjoyed increases, although basketball, wrestling, handball and table tennis have had their budgets completely cut.
With British athletes winning 65 medals in the Olympics and 120 in the Paralympics, UK Sport has targeted 66 Olympic medals and 121 Paralympic medals in Brazil in four years.
"We want to be the first nation in recent history to be more successful in the Olympics and Paralympics post hosting," UK Sport chief executive Liz Nicholl said.
"We are very confident we can be even better in Rio than in London."
Not a punishment
In the pool, Team GB's only medals came from Michael Jamieson (silver) and Rebecca Adlington (two bronze) with head coach Dennis Pursley and performance director Michael Scott leaving their posts amidst the fall-out.
Nicholl added: "It won't be a surprise because we and they were disappointed that they didn't perform in London. They will get there.
"It's not a punishment - we don't punish. Today will be good news for some and it will be painful for others who haven't met the criteria.
"It's not been easy sharing these decisions with them today. They are very disappointed but I think some of these sports have to improve their base, their competition structure, and drive up competition before they can really compete for medals at a world level.
"We have been guided by our no-compromise approach. I hope the sports that have been hit today will go to sports like hockey and gymnastics and talk to them about how they have got back to where they are today.
"Hockey had their funding cut in the past, they went bust, they were in dire straits and they have done amazingly well to recover."