Dave Brailsford hints that Bradley Wiggins will focus on the Giro d'Italia
Team Sky supremo Dave Brailsford gives a strong hint that Bradley Wiggins will focus on the Giro d'Italia next year.
Last Updated: 28/12/12 4:36pm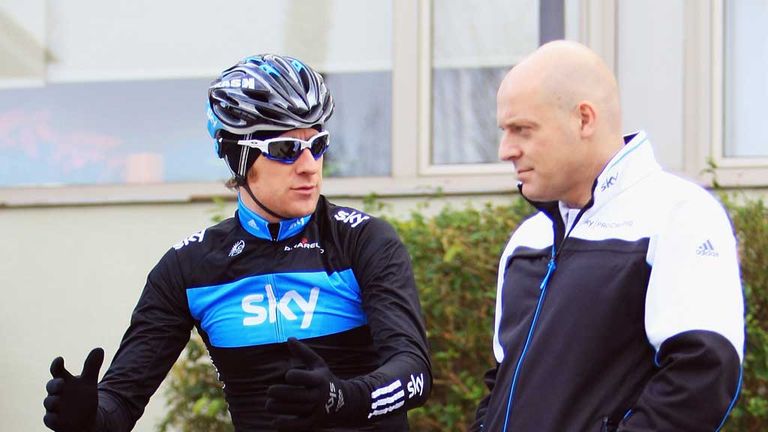 Wiggins has had a memorable 2012, becoming the first Briton to win in France and then securing gold in the time trial at the London Olympics.
But in 2013, Brailsford believes Wiggins should psychologically take a different approach and a different challenge, which is where he points to a potential Italian job.
He told Sky Sports: "The tour of Italy is well suited to Bradley. It's a challenging race and one which is one of the three Grand Tours.
"To me it would make a lot of sense for Brad to try and target that to see if he could go on and win the great tour of Italy."
And Brailsford believes the 32-year-old's heroics was the outstanding sporting achievement of the year.
"I think what made it special was that it had never been done before by a British rider (winning Le Tour) and so I think it has the element of history and that element of it being the first. I think that's what made it special," he said.
"One of the key elements which was quite difficult to plan was to get Bradley used to the yellow jersey. When you're leading the race, you have to go straight to doping control and then straight to the media and press conferences and so there is a lot more hassle if you like about being the race leader.
"We deliberately went into races early in the season to try and get Bradley into the winner's jersey, so he became comfortable and more accustomed to that process.
"I think he won it because he was the best rider in the race and certainly he's the best climber time trialist.
"He can time trial certainly better than anybody else who can climb to the level he can climb and that is the combination of elements that put him to the fore."