Lance Armstrong considering doping confession
Lance Armstrong is reported to be considering confessing to doping in a bid to resume his sporting career.
By Matt Westby
Last Updated: 10/01/13 7:54pm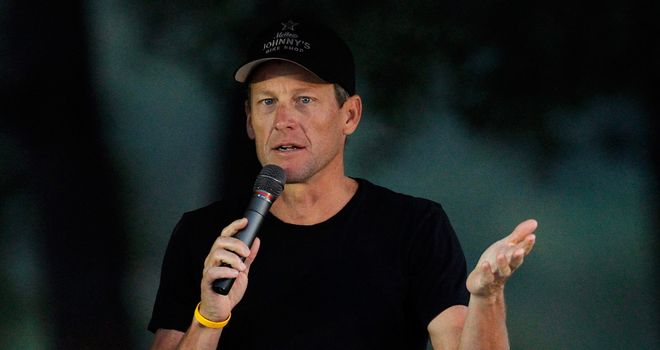 The 41-year-old was stripped of his seven Tour de France titles, banned for life and had his entire professional record from August 1998 expunged in October after cycling's governing body ratified an investigation that concluded the Texan was a "serial" drugs cheat.
Armstrong has vehemently denied any wrongdoing for more than a decade, but according to the New York Times, he has now told friends and anti-doping officials that he is considering admitting to using performance-enhancing drugs and blood transfusions during his career.
It is understood he is ready to make the U-turn in an attempt to convince doping officials to reduce his ban and restore his eligibility to take part in triathlons and running races.
When asked if Armstrong would confess, his lawyer, Tim Herman, said: "Lance has to speak for himself on that."
Armstrong won the Tour de France in seven consecutive years from 1999 to 2005, but had all of his titles stripped after a 1,000-page report by the United States Anti-Doping Agency (USADA) described him as the man behind "the most sophisticated, professionalised and successful doping programme that sport has ever seen".
The dossier, compiled using testimonies from former team-mates and laboratory analyses, was later sanctioned by the International Cycling Union (ICU), who effectively erased Armstrong from the sport's history.
Armstrong has kept a low profile in the aftermath of the scandal, with an appearance at an annual gala of the Livestrong charity he founded and a tweet of himself pictured in front of his seven yellow jerseys being among his few public shows of defiance.
Reports of an impending confession come as a surprise given that he could face charges of perjury and the prospect of paying huge amounts of money in compensation to former sponsors. The US Postal Service alone poured £18m into the title sponsorship of Armstrong's team between 2000 and 2004.
Contracts terminated
He has already seen around £30m of sponsorship contracts terminated and is also being sued by both Texas insurance company SCA Promotions and The Sunday Times newspaper for a combined total around £8.5m.
However, it is understood he has been put under pressure to come clean from various fronts, not least the wealthy backers of Livestrong, who want to save the charity's reputation from further damage.
The New York Times reported that Armstrong has met with USADA chief executive Travis Tygart and is also seeking talks with World Anti-Doping Agency (WADA) director general David Howman. However, Herman denied both.
Armstrong has remained active since his second retirement from cycling, in 2011, and has become a passionate and competitive triathlete.
According to the WADA code, a full confession could lead to his lifetime ban from sport being reduced to as little as four years.