Cadel Evans hints he may retire at end of 2014 season
Former Tour de France winner Cadel Evans has revealed he may retire at the end of next season.
Last Updated: 11/01/13 1:51pm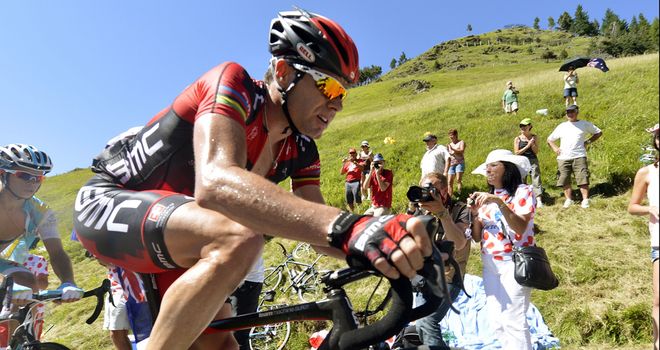 The 35-year-old Australian's current contract with BMC Racing expires in December 2014 and, having recently become a father, he is considering making it the last deal of his 12-year road career.
However, despite having one eye on the long-term future, Evans insists his short-term focus rests solely on winning a second Tour in 2013.
"I am not sure I will be racing after 2014 because it is still a long way off," he told Fairfax Media. "At this point, I am focused on a good 2013 Tour. Afterwards, let's see what happens."
Evans endured a difficult campaign in 2012 as persistent health problems and a lack of form hampered his results throughout the year.
He eventually opted to bring it to an early end in September in the wake of finishing more than 15 minutes behind winner Bradley Wiggins in a failed attempt to defend the Tour title he won in 2011.
Although that enabled him to get a head start on his preparations for the 2013 season, Evans is wary of pushing his body too far and is yet to decide what his first race of 2013 will be.
He added: "I [may] start at the Tour of Oman [February 12-17] or some of the smaller one-day races in Italy.
"Because of the health issues I had last year, I have to see how my body responds to heavy training and racing before I can be sure."
Evans and his wife Chiara became parents last year when they adopted Ethiopian-born Robel.
''Becoming a father is probably one of the biggest experiences we have in our lives," the 2009 world road race champion added. "As a family, I think we are adapting to the changes, which, of course, makes other things in our lives easier.''