Alessandro Ballan returns home to Italy for first time since training crash
Alessandro Ballan has returned home for the first time since a training accident almost three weeks ago.
By Matt Westby - follow @MattSkyCycling
Last Updated: 11/01/13 4:31pm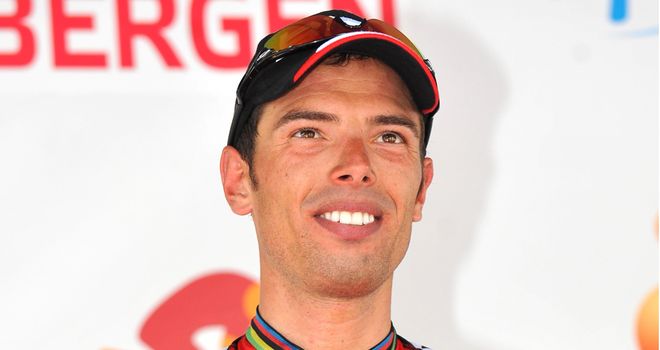 The 33-year-old BMC rider suffered a broken leg, ruptured spleen, cracked rib and punctured lung in a high-speed crash during a descent of the Coll de Rates, near Valencia, on December 20.
He spent Christmas and new year in hospital in Spain and had not seen his two daughters since before the incident, as they were being looked after by their grandmother in Italy while he recovered.
Ballan was reunited with them on Tuesday night and tweeted the following morning: "After 20 long and intense days last night I got back in my Castelfranco [Veneto]. This stage race is almost over and the victory is mine!"
Ballan, who won the world road race championship in 2008, had to undergo a double operation in the aftermath of the accident to repair a double fracture of his left femur and remove his ruptured spleen.
BMC chief medical officer Dr Max Testa insisted no timescale on his recovery and potential return to racing would be put in place until an evaluation of the effects of his flight home had taken place.
Dr Testa said: "Once Alessandro is back in Italy, we will make sure everything went well during the flight. Depending on the outcome of that evaluation, we can determine the next step in his rehabilitation."
Despite spending more than a week in intensive care, Ballan admitted being away from his family had been the hardest part of the ordeal.
"This has been particularly difficult because it has been a long time since I've been home," he said.
"Training camp started in mid-December and then I couldn't be home and together with my entire family for the holidays."