Nicole Cooke retires from cycling but takes aim at UCI and drug cheats
Olympic champion cyclist Nicole Cooke has retired from the sport but admits she is disappointed in the UCI.
Last Updated: 14/01/13 5:41pm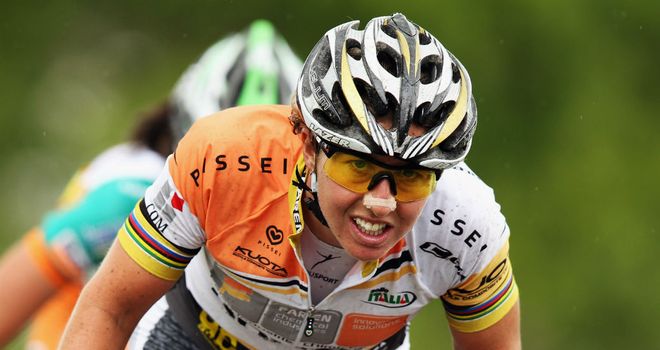 The 29-year-old announced her decision to leave the world of professional cycling at a press conference on Monday, but not before taking aim at the International Cycling Union (UCI) and numerous drug cheats she insists have exploited the sport.
The Welshwoman won the British national championship for an unparalleled 10 consecutive years between 1999 and 2009, as well as taking a momentous Olympic and World Championship double in 2008.
Despite her exploits in a rain-soaked Beijing, Cooke maintains that riders tainted with doping have enjoyed more lucrative careers - blaming the UCI for not doing more for women's cycling.
Cooke said: "I am very happy with my career. I have many, many happy memories over what has been my life's work since I was 12. I have won every race and more that I dreamed I could win."
With doping tarnishing the reputation of the sport during her career, Cooke added: "When Lance (Armstrong) cries on Oprah later this week and she passes him a tissue, spare a thought for all of those genuine people who walked away with no reward.
"Tyler Hamilton will make more money from a book describing how he cheated than I will make in all my years of honest labour.
"I am here before you with more in my basket that the 12-year-old dreamed of. But for many genuine people out there who do ride clean, people with morals, many of these people have had to leave the sport with nothing after a lifetime of hard work."
Cooke laid into the UCI for not doing more to promote women's cycling.
She said: "Whilst the UCI have been so engrossed trying to find receipts for the equipment they bought after Lance made donations to them, and suing Floyd Landis after he blew the whistle, and hold press conferences calling Landis a liar - whilst they have been busy with all these priorities, the women's road sport, that looked so promising in 2002 when I turned professional, has crumbled.
"I hope I will look on in 10 years' time and see a vibrant and healthy women's road scene. The key to that will be that the female athletes are treated with respect."