Team Sky's Ben Swift tips Yorkshire to deliver thrilling Tour de France start
Ben Swift has tipped the Yorkshire stages of next year's Tour de France to spring "a few surprises".
By Matt Westby - follow @MattSkyCycling
Last Updated: 17/01/13 3:47pm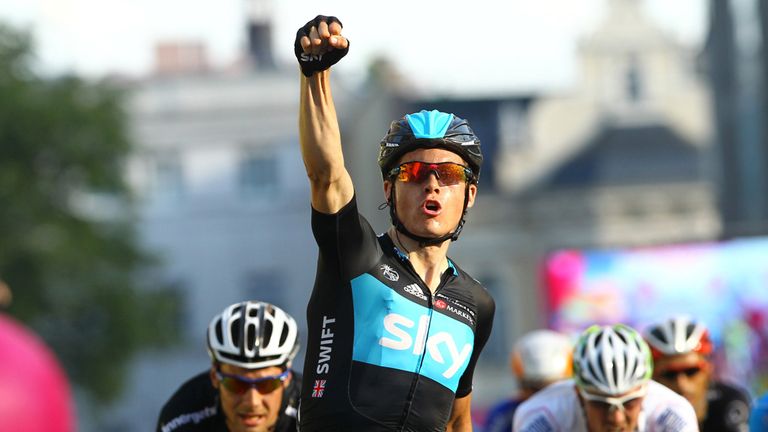 The opening two days of the 2014 event will see the peloton ride from Leeds to Harrogate on July 5 and then York to Sheffield on July 6, before heading south for a third stage from Cambridge to London on July 7.
On top of the fact there is no prologue to establish an early hierarchy, the second stage will present a stern challenge to riders by taking them up a series of short and steep climbs on the edge of the Peak District.
Yorkshire-born Swift knows many of the roads well and is confident that such a test so early in the three-week marathon will make for compelling racing.
He told Sky Sports: "It's going to be a hard route and the terrain is going to throw up a few surprises.
"The Tour is such a hard race in general. When I rode it in 2011, it started with road stages and no prologue, which is the same next year.
"It just makes it so hard and so fast. Straight away there's no pecking order. We all know the first week of the Tour is crazy anyway, but even more so when there is not a prologue because everyone is fighting for position.
"The terrain on stage two has eight climbs and a lot of them are thrown into the last 60km. It's maybe not going to catch people out, but it will certainly be a hard, hard stage, especially with it being stage two."
Impressed
Swift is impressed by the route overall and is confident that cycling fans worldwide will not be disappointed by his home county's roads or scenery.
"It looks like a really great route," he added. "Yorkshire is going to more than to do the Tour justice.
"The fans are going to be amazing and if we get a nice bit of sunshine, it is going to be beautiful.
"Growing up in and around Sheffield, that's where I rode my bike, but I never thought that's where the Tour de France would one day be.
"I'm also familiar with the North Yorkshire roads and there are a lot of really interesting climbs up there, too."
Swift's chances of taking part in the 2014 Tour are slim given that his expertise in sprinting does not fit in with Team Sky's ambition to secure overall victory.
Once-in-a-lifetime opportunity
However, he realises riding in front of home fans is a unique opportunity and has vowed to focus all his efforts towards being selected for the British outfit's squad.
"Riding in front of home fans - I can't think of an experience like it," he added.
"It's going to be super-hard for me to get selected for the Tour de France given the strength of Team Sky at the minute, but it's a once-in-a-lifetime opportunity to ride a race I grew up watching - the biggest race in your sport - going past where you grew up.
"That's going to be high on my list to try and achieve: making that Tour de France team."