Lance Armstrong confesses to doping and admits his career was 'one big lie'
Lance Armstrong has admitted his career was "one big lie" after confessing to using banned substances.
By Matt Westby
Last Updated: 18/01/13 9:34am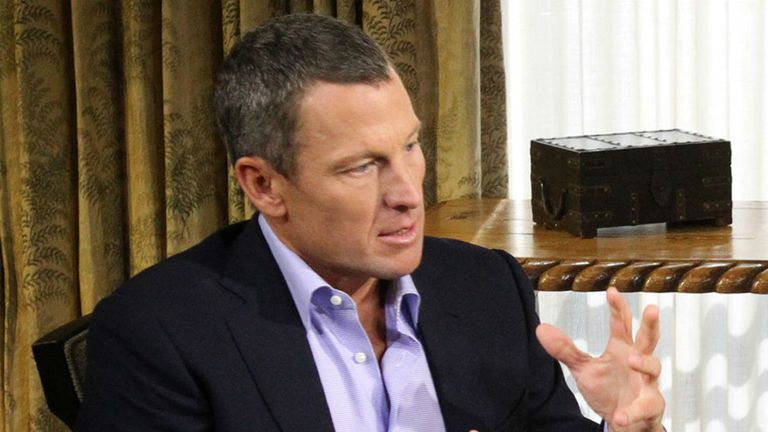 Speaking in his interview with Oprah Winfrey, the disgraced former cyclist revealed he began doping in the "mid-1990s" and apologised for the price that the sport is now paying.
Armstrong denied that the US Postal Service team's doping programme was the most sophisticated that sport has ever seen - as claimed in the United States Anti-Doping Agency's "Reasoned Decision" - but admitted that the story of his cheating was "so bad and so toxic".
He also conceded that he had been a bully, but was adamant that he had never verbally told his team-mates to dope or face being kicked off his team.
The 41-year-old at first appeared nervous, but soon settled into the interview and answered with authority and confidence.
He said he viewed using performance-enhancing drugs as like having "air in our tyres or water in our bottles". However, he repeatedly insisted that he would not mention names of other individuals who had been involved in doping.
He was also adamant that a $100,000 donation he made to cycling's governing body, the International Cycling Union, in 2002 was not in exchange for a cover-up of a positive test.
Armstrong admitted he was "reckless" to become involved with the controversial doctor Michele Ferrari, but said he still views the now-banned Italian as "a good man".
Despite accepting full responsibility for his actions, he mitigated them by claiming he was just another member of a doped generation of riders and that doping was the "level playing field".
However, he insisted that he had raced clean when he made his comeback in 2009 and 2010.
The Texan said that had he not made that comeback, he was confident he would have got away with doping, but knew the game was up when long-time friend George Hincapie testified against him.
He was less forthcoming regarding claims made by Betsy Andreu, the wife of former team-mate Frankie Andreu, that he admitted doping to doctors in 1996 - opting not to directly answer Winfrey's question.
Armstrong hinted he now would be keen to co-operate with anti-doping officials and back a truth and reconciliation process.
Armstrong's key admissions
- "Why now? That's the most logical question. I don't know that I have a great answer. This is too late."
- "I view this situation as one big lie that I repeated a lot of times. I know the truth - the truth isn't what was out there or what I said."
- "This story was so perfect for so long. You overcome the disease, you win the Tour de France seven times - it was this mythic, perfect story, and it wasn't true."
- "It [the US Postal Service doping programme] was definitely professional and it was definitely smart, but it was very conservative, very risk-averse, very aware of what mattered - and winning races mattered for me. But to say that programme was bigger than the East German doping programme of 1970s and 1980s [is wrong]."
- "The accusation and the alleged proof that they say that I doped after my comeback [in 2009] is not true. The last time I crossed that line [doping] was 2005."
- "Yeah, I was a bully. I was a bully in the sense that I tried to control the narrative and if I didn't like what somebody said, I tried to control that. I was just trying to perpetuate the story and hide the truth."
- "It's hard to talk about these things and not mention names, but there are other people in this story. There are people who are not monsters and toxic and evil, and I viewed Michele Ferrari as a good man and a smart man, and I still do."
- "I deserve this. I don't look around and say 'Oprah, I am getting so screwed here'. Were there days early on when I said that? Absolutely, but those days are fewer and fewer and further and further in between."
- "The issue of performance-enhancing drugs was 'we're going to pump up our tyres and we're going to put water in our bottles, and oh yeah, that too is going to happen'."
- "I went and looked up the definition of cheat, and the definition is to gain an advantage on a rival or foe, but I didn't view it that way. I viewed it as a level playing field."
- "I am not a UCI fan. I have every incentive to sit here and tell you 'Yes, that's right, they are all crooked'. There were a lot of things that were shady - that [the 2002 donation] was not one of them. They didn't have a lot of money, I was retired, I had money, they said 'Would you consider a donation?' and I said 'Sure'. This is impossible for me to answer this question and have anybody believe it - it was not in exchange for any cover-up."
- "Emma O'Reilly is one of these people that I have to apologise to. She is one of these people that got run over, got bullied. To be honest, Oprah, we sued so many people I don't know, but I am sure we did [sue Emma O'Reilly]."
- "[Suing people] was a major flaw. It was a guy who expected to get whatever he wanted and to control every outcome. It's inexcusable. There are people who will never forgive - I understand that."
- "I didn't invent the [doping] culture, but I didn't try to stop the culture. That's my mistake."
- "It's not my place to say 'Hey guys, let's clean up cycling', [but] if there was a truth and reconciliation commission, and I'm invited, I'll be the first man in the door."
- "I regret coming back. We wouldn't be sitting here if I didn't come back."
- "I didn't fail a test. Stuff was retroactively tested, and I failed those, but the hundreds of tests that I took, I passed them because there was nothing in my system."