Lance Armstrong labelled 'delusional' by Betsy Andreu after Oprah Winfrey interview
One of Lance Armstrong's biggest critics has dismissed the former cyclist's public show of contrition.
Last Updated: 19/01/13 10:37am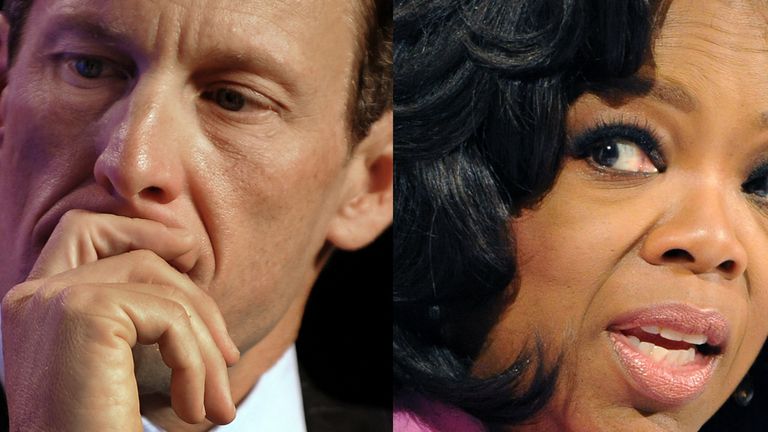 Betsy Andreu, the wife of Armstrong's former team-mate who testified he had admitted to doping in a hospital in 1996 and was subsequently labelled "crazy" by the Texan, said he does not understand "the magnitude of what he's done".
In the second part of Armstrong's interview with Oprah Winfrey, he insisted he had stuck to a pact made with first wife Kristin that he would not dope during his comeback to cycling, was tearful when addressing the fact his 13-year-old son Max defended him and said he did not believe his doping contributed to his cancer.
But he also spoke of lost earnings through sponsorship totalling £75million and said he felt he "deserved" to able to compete again at some point in the future.
"Boo hoo," Andreu told CNN. "He's not getting it. What about Greg LeMond's bike company that was completely destroyed? It doesn't make sense. What about Scott Mercier not having a career? Christophe Bassons not having a career? Other guys who didn't want to do what he wanted them to do not having a career?
"You can't put a price on opportunity lost and we're not even talking millions of dollars, we're just talking about people who just want to make a living so they can pay a mortgage and save some money after."
Three-time Tour de France winner LeMond's company LeMond cycles fell into dispute with distributors Trek, Armstrong's sponsors, after he spoke out publicly against doping. Bassons and Mercier were effectively forced out of cycling because they refused to dope.
Irreparable damage
Andreu continued: "So many people in the saga have been hurt. Greg LeMond for example, [Armstrong's] children, people who defended him. He hurt the sport of cycling. He caused it irreparable damage.
"I hope that he will testify to USADA [the United States Anti-Doping Agency] and tell the truth, and the right thing can be done.
"It can't be underestimated how much he has hurt people and I don't think he really understands the emotional toll, the mental toll, the financial toll. But he has to pay the price, some way, somehow.
"In a way I don't think he understands the magnitude of what he's done.
"He's trying to reason this out. He's just not being logical. I think he's being a little delusional."
Andreu also said that when Armstrong contacted her and husband Frankie recently, he seemed more genuine than he appeared in the Winfrey interview.
"When Frankie and I spoke with him we felt that he was sincere and he was genuine," said Andreu. "The way he was on the phone with us was far different to how he is portraying himself on TV.
"I don't know if it's because he was very nervous. He's trying to be stoic or have a stiff upper lip, but I think it would have been a great benefit to him to let the guard down.
"Part of the problem is telling the truth and being contrite, apologising - it's a new concept to Lance."