Bradley Wiggins hints that Chris Froome will lead Team Sky at 2013 Tour de France
Sir Bradley Wiggins drops a strong hint that Chris Froome will replace him as Team Sky leader at the Tour de France
Last Updated: 22/01/13 1:23pm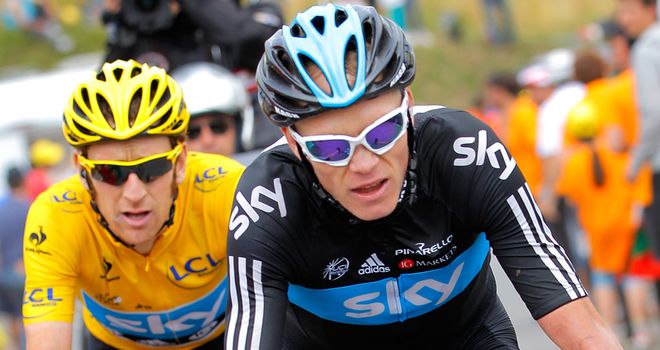 Wiggins' main target for 2013 is the Giro d'Italia which he has never won, and with the 2013 Tour de France favouring pure climbers, Froome will be more suited to the course.
Wiggins insists though that he would not race as Froome's domestique.
"I would love to win the Tour for a second time if given the opportunity, not necessarily this season, that would be great, but it is likely that Chris will be the team leader this year," Wiggins told French daily L'Equipe.
"But it does not mean that I'm going to work at the front of the peloton for 200 kilometres everyday for Chris.
"Something could happen to Chris... he could be sick, he could crash as it happened to me in 2011 when we ended up without a team leader.
Team loyalty
"There won't be any problem between me and Chris. No doubts about reciprocal loyalty. He was ready to win in 2012 if anything happened to me."
Froome, a renowned climber, helped his team-mate through the mountain stages of last year's race to eventually finish second behind Wiggins.
"The Giro is my new challenge. It's my inspiration. It's the new fire burning inside me. I think that to win it, in some ways, will be harder than winning the Tour," the 32-year-old told Italian sports daily La Gazzetta dello Sport.
"There will be some riders, I'm thinking of Vincenzo Nibali, better prepared than on the 2012 Tour de France... and who already know how to race a Giro to win it."