Laura Trott and Dani King turn their attention to road cycling in 2013
Olympic champions Laura Trott and Dani King are eager to turn their attention to road cycling in 2013.
Last Updated: 25/01/13 11:26am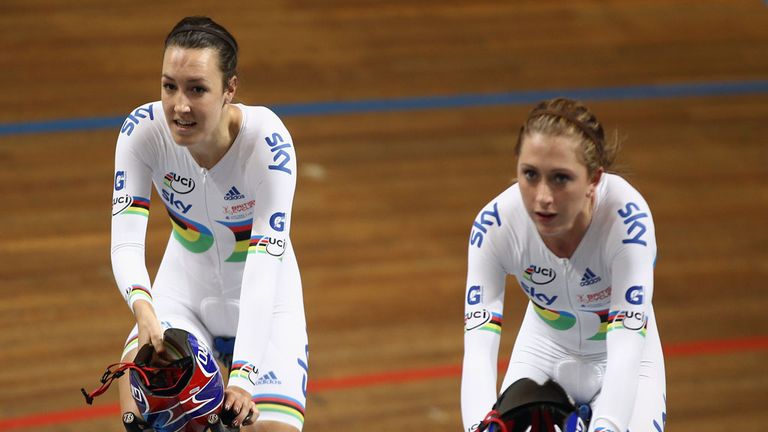 The Britons, who claimed team pursuit gold in world record time in London, are part of the women's Wiggle Honda Pro Cycling team which was launched on Friday and backed by Tour de France champion Bradley Wiggins.
Double Olympic champion Trott said she was looking forward to a fresh challenge after a busy 2012.
"It's going to be really exciting and focusing on something different, taking the pressure off of winning all the time," she said.
"We'll get the chance to help other people win, rather than just focusing on ourselves."
Trott outlined her aims for the year: "Just getting stuck in. Maybe helping out in (sprint) leadouts and maybe even taking on a race myself, a time-trial.
"A bit of everything, just trying new things and I'll see what comes."
The duo were part of the pursuit team who won world titles in 2011 and 2012 as well as Olympic gold, and are pleased to be taking on the new challenge together.
Challenge
Essex-born Trott added: "It will be the same challenge for the both of us. We'll face the same hurdles - we'll have to learn how to ride the road before we can expect a result."
King is also relishing her chance to ride in the leading road events.
"It's incredible for me to have this opportunity," King said.
"It's great for women's cycling as well. It's such a professional set-up and it's great. I can't wait to race with the team. It's going to be a great year.
"Track still is my number one focus, but hopefully I'll be able to help the team perform and get a result myself, once I've found my feet a bit."
The duo will compete on the road together for the first time in April, with their initial focus on February's Track Cycling World Championships in Belarus, and they are yet to decide on which event they will compete in at the Rio de Janeiro Olympics in 2016.
"I'll be aiming for the track, but never say never," she said.
"I haven't raced on the road yet - I might fall in love with it. At the moment, track's what I'll go for."