Chris Froome insists Alberto Contador can be beaten at Tour de France
Chris Froome has insisted Alberto Contador can be beaten at next year's Tour de France.
By Matt Westby
Last Updated: 25/01/13 10:40pm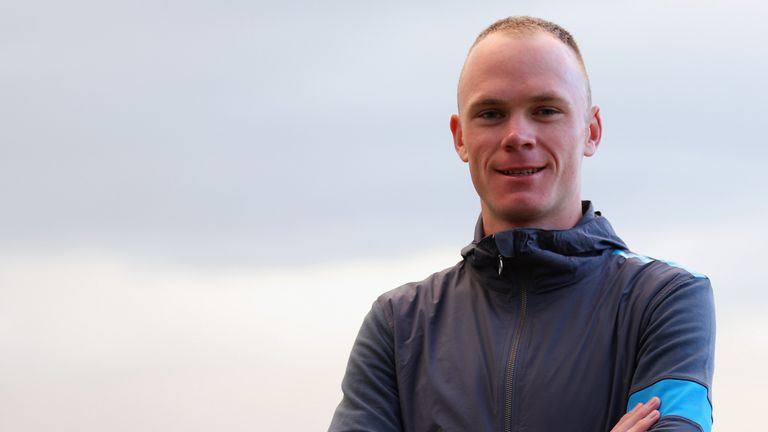 The 27-year-old is set to lead Team Sky at a mountainous 100th edition of the world's most famous bike race and is among the favourites for overall victory.
One of the strongest fields in recent years is expected on the start line, with previous winners Andy Schleck, Cadel Evans and Bradley Wiggins being joined by rising star Tejay van Garderen and, potentially, climbing expert Joaquim Rodriguez.
However, the man to beat is likely to be two-time champion Contador, after he reasserted his Grand Tour prowess by winning the Vuelta a Espana last September.
Froome was repeatedly left trailing in the mountains by the Spaniard in that race, but is adamant it has not dented his belief that he can claim the yellow jersey in Paris.
"I don't believe he [Contador] is completely unbeatable," the Kenyan-born rider told reporters at Team Sky's media day. "If you look at last year's Vuelta, he was sitting in second or third place coming into the last week.
"He almost got beaten then. It was just due to bad tactics by Rodriguez that he lost the Vuelta last year, but he [Contador] certainly isn't unbeatable.
"I feel I can win the Tour. It is going to be a hard challenge, especially with the likes of Contador there, possibly Rodriguez, Andy Schleck returning, Cadel, Tejay van Garderen. Tejay is only getting stronger every year.
"It is going to be hard work. I believe it is a harder ask than last year."
Harmony with Wiggins
Team Sky have confirmed Wiggins will ride the Tour, but probably only in a supporting role to Froome.
The dynamic and relationship between the duo has been the source of intense speculation over the winter after they finished first and second in the 2012 race, but Froome is adamant rumours of friction are wide of the mark.
"We have got a perfectly good working relationship, contrary to what everyone makes out and what the journalists say," he added
"There isn't really much to be said. We do what is needed of us. I wouldn't say I spend time with him off the bike, but for one, we live in different countries and he is a few years older than me and married.
"I was annoyed that people played on that [the supposed rivalry at the 2012 Tour de France]. It was a real non-factor in the team.
"I felt I was always doing my job. I know there were moments of miscommunication, which could have been portrayed as me going against Brad.
"But at the end of the day, I always did my job, I always stayed with him when I needed to, helped him all the way through and that was the goal of the team.
Daunting route
"Being professional bike riders, that is our job. The way it is shaping up this year, the roles will be reversed, so he will be doing that job for me."
Tour organisers Amaury Sports Organisation have marked the 100th edition of the race with an epic route containing a summit finish on the legendary Mont Ventoux and two ascents of Alpe d'Huez in a single day.
It has the potential to be one of the most challenging parcours in the recent history of the race - and Froome admits to being daunted.
"The four mountain-top finishes are critical," he said. "Mont Ventoux after 230km of racing is brutal, plus two times up Alpe d'Huez.
"I raced up Alpe d'Huez once, in 2008, and that was hard enough, so do it twice with a tricky descent in the middle is going to be testing to say the least.
"The two time trials are days where probably not a lot of time will be gained, but if something went wrong, you would lose a lot of time.
"It's going to take a well-balanced rider to win the Tour this year - not a pure climber, given that there are time trials in the race."