Pat McQuaid is determined to remain in charge of world cycling's governing body
UCI president Pat McQuaid says he will be ignoring calls from Sunday Times journalist David Walsh for him to step down.
Last Updated: 25/01/13 5:29pm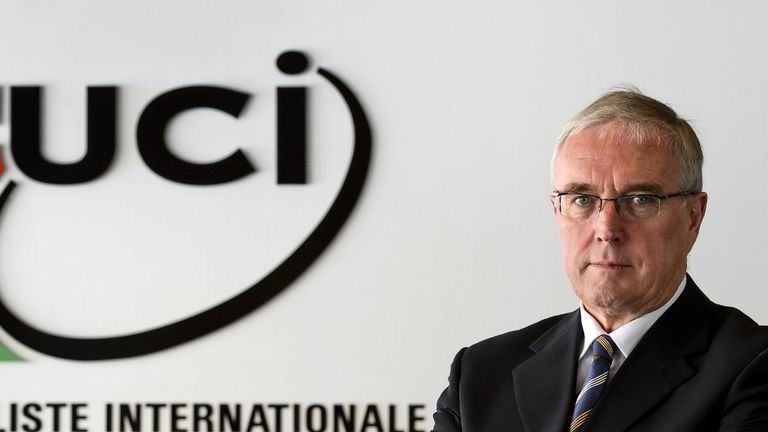 Walsh was at the head of a long-running investigation into possible doping by seven-time Tour de France winner Lance Armstrong and was completely vindicated last week when the American cyclist publicly admitted to drug use.
And Walsh thinks McQuaid should now resign due to the prevalence of doping in cycling since he took charge in 2005.
But McQuaid responded: "Armstrong started in 1999, I wasn't a member of the UCI or anything at that point.
"I became president of the UCI in 2005, the year he retired. He came back in 2009 and 2010 because the sport had become a lot cleaner and the measures I have introduced are what has done that.
"The UCI has the most stringent anti-doping policy at the moment and there is no reason for me to consider going anywhere. My sports needs me now and I'm prepared to work for the sport."
And the UCI wants to work with the World Anti-Doping Agency and establish a "truth and reconciliation" commission.
The plans, announced by McQuaid on Friday, undermine the independent commission which has been convened to investigate the Armstrong scandal.
The commission was established by the UCI to look into allegations that its leaders covered up suspicious doping tests given by Armstrong during his run of Tour de France victories.
But the commission was suspended on Friday because it has yet to receive any documents from the sport's global governing body, which now wants to press on with its own hearings.
"The truth and reconciliation process is the best way that we can examine the culture of doping in cycling in the past, and can clear the air so that cycling can move forward," said McQuaid.
"We feel that, because a lot of the allegations which are in the USADA (United States anti-doping agency) report are made by riders, that those riders, if they come forward to the truth and reconciliation commission, can make those allegations again, and the UCI can respond to those allegations within that process.
"There has been a culture of doping in cycling but we hope, through this truth and reconciliation commission, that we can finally and for the last time drawn a line in the sand, and that our sport can move on and be the great sport around the world it should be."