Bradley Wiggins adds Liege-Bastogne-Liege and world title to 2013 targets
Bradley Wiggins has revealed he wants to win Liege-Bastogne-Liege and the world championship time trial.
By Matt Westby
Last Updated: 25/01/13 10:45pm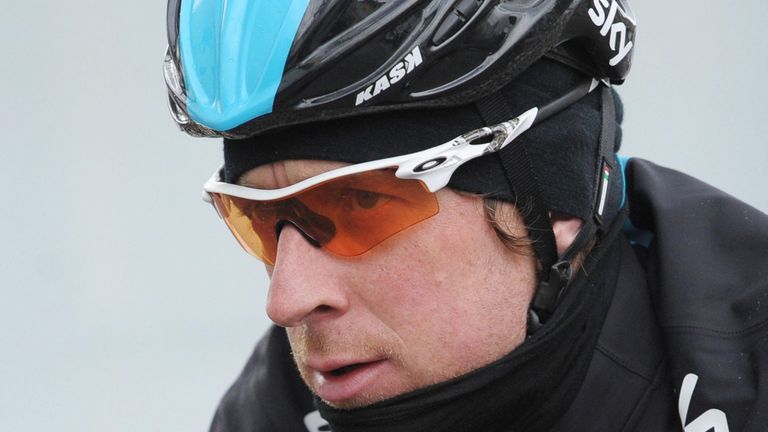 The 32-year-old had already announced his primary focus for the new season will be winning May's Giro d'Italia, but is now also eyeing a Classics triumph and a rainbow jersey.
Although Wiggins has limited pedigree in one-day races, Liege-Bastogne-Liege is a feasible proposition this year given that it takes place only two weeks before the start of the Giro, on April 21, and should find the Team Sky rider approaching peak form.
The 2012 Tour de France winner said: "Liege-Bastogne-Liege is a race that I enjoyed watching. It is up there with Paris-Roubaix as a Classic.
"I got frightened off these races through past experiences. I had a horrible experience there in 2010, but then when I look how far I have come on physically, I think now I could probably be in the mix for something like that.
"With the timing, it is only two weeks before the Giro starts, so in terms of form and fitness, it looks really good on paper.
"These are my best years and I would love to add all those other races, and not just be remembered as someone who won the Tour de France. Hopefully, [it will be] 'he won the Giro, he was up there in Liege'.
"I would love to go and win a world title in the time trial and have a good performance in the road race as well. The time trial, again, is something that is also missing."
Emulating heroes
Although keen to emulate his cycling heroes by winning the sport's biggest races, Wiggins admitted he does not count the Vuelta a Espana, the third grand tour of the year, among them.
"No disrespect to the Vuelta, but it has never rocked my boat," he told journalists at the Team Sky media day in Majorca.
"When I was a kid I used to watch the Vuelta on telly and they always seemed to be going down the motorway.
"That wasn't very inspirational for a 14-year-old lad. But watch the Giro and watch [Andy] Hampsten climbing up the Stelvio or the Gavia in the snow and things like that, it is those things that inspire you."
Another key race for Wiggins this season will be the Tour, although he accepts it is unlikely he will be defending the yellow jersey that he won last July.
Instead, he is set to play a supporting role to Chris Froome, with the intention of taking over leadership duties should his team-mate fall into trouble.
He explained: "My focus straight after the Giro finishes is to recover, like we did with the Olympics, go straight into a camp environment, and build to the Tour to be as good as I can be at the Tour.
"Obviously, there is an element of unknown with the Giro and how we are going to back up to the Tour.
Supporting role
"The likelihood is we will get to the Tour and Chris will be the leader if all goes to plan for him, and I will be there in a supporting role, as he was for me last year.
"That supporting role doesn't mean that from day one I will be doing 200km on the front every day, swinging off and losing 20 minutes on the run-ins.
"The biggest unknown with me is how I will back up at the Tour if all goes to plan at the Giro. In the modern day, no one has really done it. That's the challenge for me."
Wiggins accepts that riding Tour without aiming to defend his title will be almost unprecedented in the race, but insisted that back-to-back tilts at victory had never been part of his plans.
"It was always about winning one," he explained. "We never thought 'We will win the first one, and as soon as we have won that, the plan as to try and win a second and then a third'.
"In time I thought I would love to win a second one, but not necessarily straight away. There are other things within the sport that I would always love to do.
"The Tour of Italy has always been something that I have always wanted to go back to, but it has never fitted in. [But] the opportunity is there now."