Australia name youthful squad for Track Cycling World Championships in Minsk
Australia have named a youthful squad for the Track Cycling World Championships in Minsk.
Last Updated: 06/02/13 2:35pm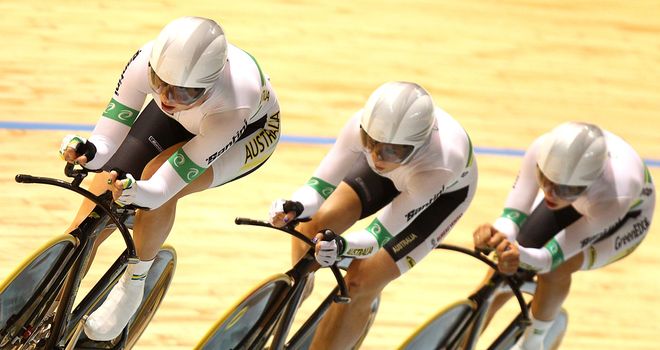 The "Cyclones" will travel to Eastern Europe without London 2012 gold-medallist Anna Meares, who has only recently returned to training after a post-Olympics break, and Jack Bobridge and Rohan Dennis, who are now concentrating on road racing careers.
They will still boast four world champions in their ranks, but those riders will be joined by emerging talent.
Cycling Australia national performance director Kevin Tabotta said: "This is the first major step in the rebuilding process for the track program and this world championships is the beginning of the journey to Rio 2016.
"The post Olympic Games year provides an ideal opportunity for emerging talent to challenge for a place in the elite high-performance program and future Cyclones teams.
"But the focus is still on getting Australia on the podium, whether now or by laying the groundwork for the future."
Among the new riders in the Australia squad is former Paralympic tandem pilot Stephanie Morton, 22, who won a gold medal at London 2013 but is now concentrating on able-bodied races and is set to join Kaarle McCulloch in sprint events.
The 16 riders named in the squad will be trimmed down to 15 ahead of the championships, which take place from February 20-24.
The British squad is due to be announced later this week.
Australia squad (provisional)
Men: Mitchell Bullen, Matthew Glaetzer, Scott Sutherland, Andrew Taylor, Luke Davison, Alexander Edmondson, Michael Hepburn, Alexander Morgan, Mitchell Mulhern, Glenn O'Shea.
Women: Kaarle McCulloch, Stephanie Morton, Ashlee Ankudinoff, Amy Cure, Annette Edmondson, Melissa Hoskins.