Ed Clancy admits 'gate-crashing' team pursuit squad for world championships
Ed Clancy admits he has "gate-crashed the party" by returning to Great Britain's team pursuit squad.
By Matt Westby
Last Updated: 11/02/13 10:37pm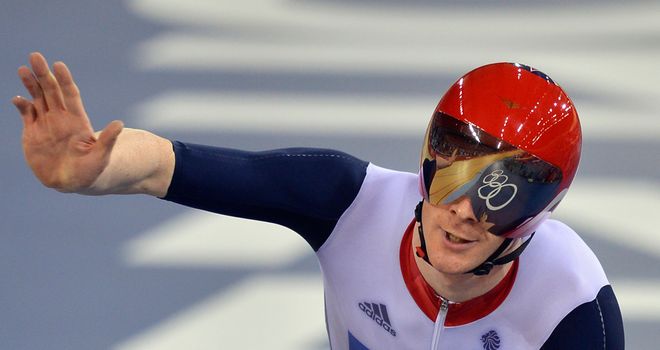 The 27-year-old double Olympic champion joined up with Jason Kenny and Philip Hindes for the Track World Cup in Glasgow last autumn in place of Sir Chris Hoy, who is taking a break from the sport.
The trio picked up a team sprint silver medal and Clancy had harboured hopes of continuing in the discipline all the way to the Rio Olympics in 2016.
However, he failed to consistently produce the required power output over winter training and was left out of the sprint team for the Track Cycling World Championships in Minsk later this month.
Having won team pursuit gold medals at both the Beijing and London Olympics, he has been able to reclaim his place in British Cycling's men's endurance squad in Belarus.
But he confesses making the move back and potentially costing another rider a place has left him feeling guilty.
"I do feel like I have gate-crashed the team pursuit party a little bit," he said. "Blending back into the team is hardest bit.
"Just being around that [team pursuit] group, having been training with a completely different group, a different set of coaches, and all of a sudden I have made the phone call to Chris Newton [British Cycling men's endurance coach] and the lads are speculating 'Ed is coming back into the team - am I going to lose my place?' - that is the hardest bit.
"Feeling like your part of the team again is the hardest part."
Back in the swing
Great Britain are reigning world champions in the team pursuit and although a new, younger squad is not expected to retain the crown in Minsk, the championships are being treated as an important first step on the road to Rio.
Despite having spent the winter tailoring his training to the team sprint, Clancy is adamant he is still in optimum condition for the team pursuit.
"I'm not in a bad place in terms of team pursuit," he added. "I have only had a week and a half of training with them now.
"The down side over this winter is I didn't seem to gain much peak power and team sprint speed, but I don't seem to have lost much in the team pursuit either.
"In terms of pace, judgement and feel for team pursuit, that's difficult as well, but I have been doing it so long it didn't take long to get it back."
The idea behind Clancy's switch to the team sprint was to double his number of gold-medal opportunities in Rio.
He rode two events in London, pairing the team pursuit with the omnium, but although he won a bronze medal in the multi-discipline event, he feels his weaknesses in bunch races means he would never be able to better third place.
The team sprint, on the other hand, has been dominated by Great Britain in the last two Olympic Games and Clancy sees it as a more lucrative alternative.
Doubling up
"Ultimately, I'm trying to line myself up for the best medal prospects I can in Rio - that's the whole idea behind this," he explained.
"I've been in the team pursuit team for the last two Olympics and I thought, 'Let's try and broaden my horizons a little bit'.
"The omnium is a good event for me, but I don't think I'm ideally suited to it. No matter what I could do, I would never be great in the bunch races, which would make it difficult to win.
"I thought, 'If you could line yourself up for team sprint and team pursuit, there are two genuine gold medal-potential events'. That was the idea.
"In London it seemed quite possible. There was no worry about making team pursuit selection, so let's see about making team sprint selection as well.
"It was just a case of, 'Right, all we have got to do is add 200 or 300 watts to your start, and you should be fine in the team sprint', but getting those 200 or 300 watts wasn't as easy as we would have liked.
"I don't regret taking the decision. I'm glad I did it. I haven't left it [sprinting] completely. If I was going to do it again I wouldn't do a sprint-specific programme.
"The best way to go about it would be to have really good form going into the team pursuit, because there is plenty of sprint work there anyway, and then stick my hand up and say 'I'm up for a trial for team sprint' and just chance my luck that way."
The world championships take place from February 20-24.