Laura Trott 'annoyed' by UCI's imminent changes to women's team pursuit
Laura Trott has expressed her "annoyance" at the imminent expansion of the women's team pursuit.
By Matt Westby
Last Updated: 15/02/13 4:25pm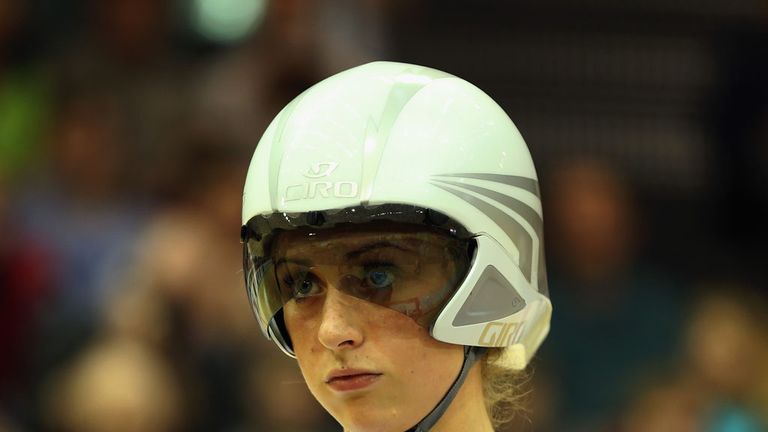 The event is set to be increased from three riders racing over 3km to four riders over 4km following next week's Track Cycling World Championships in Minsk.
Great Britain have dominated the discipline since its inception in 2008 and Trott is part of the team that has travelled to Belarus in search of a fifth world title in six years.
The expansion is likely to further strengthen Britain's position given that smaller countries could struggle to field four competitive riders, but Trott fears that will be to the detriment of the team pursuit as a spectacle.
The 20-year-old said: "It just annoys me because it is going to lower the standard. Not every team in the world is going to be able to get four girls, let alone five [four plus a reserve].
"There will be six teams, whereas they are getting about 15 teams these days with three girls. It is just annoying.
"It would put us at an advantage, but then it is nice to have a race, like at the [2012] worlds, when us and Australia were head to head for ten laps of a 12-lap race. It was quality.
"But imagine not having that. Australia have got two other girls, so they will be able to field five, but imagine if they couldn't. It could be us against a lesser nation and we win by miles. It is not fun."
Motivated
Trott arrived in Minsk on Friday as one of the biggest names in women's cycling following an all-conquering 2012 in which she won the team pursuit and omnium at both the world championships in Melbourne and Olympic Games in London.
Her success catapulted her into the public eye and the latter months of the year consequently became dominated by media and sponsor commitments.
However, she is now back to full fitness following an intensive winter training programme and although she accepted that 2013 holds less prestige than last season, she is keen to end the three rider, 3km era with victory.
She added: "This year doesn't really mean that much in the bigger picture, but to me it does because I want to win the team pursuit.
"[The worlds] are just a stepping stone, but the team pursuit is at an end of an era so it would be nice to win it and finish it there. We have only ever not won that once, back in 2010."
The expansion of the team pursuit is not the only change to women's track cycling in the pipeline, with the omnium currently at risk of being replaced by the points race at the Rio Olympics in 2016.
Trott holds the omnium dear and sees the proposal as another example of unnecessary tampering with the women's programme by the UCI.
Frustration
"It will annoy me in a way because I don't understand why they keep chopping and changing the events," she said.
"I love the omnium. OK, at the worlds, it was confusing and people didn't really know what was going on, but at the Olympics people really got involved and really got behind me and it was nice.
"You don't see them taking the heptathlon out of the athletics, so why would you take it out of the cycling?
"I just hope that they keep it and put the points race - because it's all about the points race - in as well as, so that we get three events, rather than just the two."
Asked if she would like to race all three events at the same meet, Trott responded: "Yes. It means I wouldn't have to do so many Olympics to catch Sir Chris Hoy."