Sir Bradley Wiggins had to rediscover motivation after successful 2012
Sir Bradley Wiggins admits he lost some motivation following a successful 2012.
Last Updated: 17/02/13 2:16pm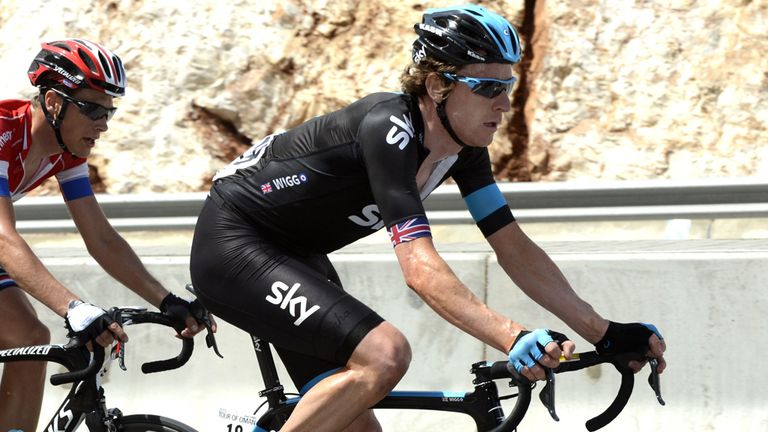 Wiggins became the first ever British winner of the yellow jersey in Paris before going on to pick up his fourth Olympic gold medal, feats which saw him named BBC Sports Personality of the Year.
And with uncertainty looming over whether the 32-year-old will compete for a second successive Tour title, Wiggins says the Giro d'Italia has always been a huge goal.
Wiggins told the Sunday Express: "It took a lot of time for the motivation to come back. After the Olympics, there was a long time where I was thinking 'what the hell am I going to do here next year?'.
"So I had to find something to inspire me and the Giro d'Italia is something I would really love to try to win. It's as big a goal for me as winning the Tour was in 2012.
"In the previous 18 months, I had put so much into that Tour project I knew I wanted to go out and compete at a high level again. But I didn't want to retire or go through a season and fail, and have to deal with that.
"There was no way I was going through all that again. I didn't want to have that direct comparison with last year all the time.
"Unless I won all those races again, there was only one alternative and that was to fail."
Froome, who came runner-up in last year's Tour, was victorious in this week's Tour of Oman, with many regarding him as a more likely Team Sky leader on a mountainous route.
Wiggins added: "I don't want to be too self-conscious and say 'Well I'm the winner of the 2012 Tour and if I'm not up there I don't want to race'. It's not just about me in the team.
"For Chris, winning races like Oman is about the rest of the team having confidence in him. He took that leadership role on, put his hand up and said he would do it. That's half the battle."