Elinor Barker hopes to seize 'big opportunity' at Track World Championships in Minsk
Elinor Barker admits her selection for the Track World Championships is a "big opportunity".
By Matt Westby
Last Updated: 18/02/13 3:02pm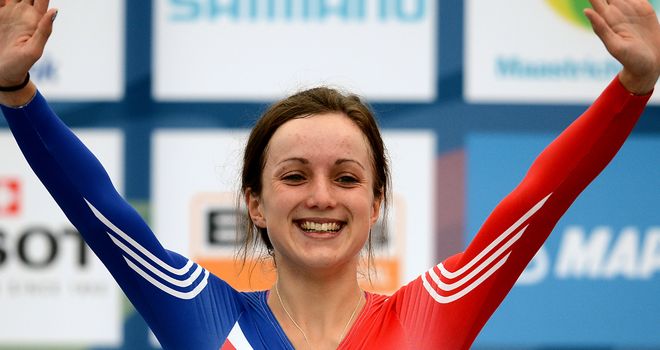 The 18-year-old will join Laura Trott and Dani King in the Belarusian capital as the London Olympic champions look to win their fifth rainbow jerseys in six years.
Rowsell is taking a break from the track in order to focus on road racing and her absence has opened the door for Barker to ride with the team for only the second time, three months after her debut at the Track World Cup in Glasgow in November.
But with the event set to be expanded from three riders racing over 3km to four riders over 4km after the world championships, a spare place in the line-up will become permanently available and Barker is keen to make it hers with a strong showing in Minsk.
She said: "Jo is an amazing rider, so I am sad to see her go, but then it does give me a big opportunity.
"I'm definitely putting myself under pressure. If I am going to do it I might as well aim high and do the very best I can rather than coasting through.
"It is quite scary, but the team seems to have some confidence in me, which gives me some confidence in myself."
Barker's only other experience of world championship competition was as a junior and she had not been expecting to move up to the senior ranks until 2014.
Rowsell stepping temporarily aside has brought that forward and Barker admits to feeling anxious about continuing the standard that saw the team achieve a world and Olympic double last year.
Ahead of schedule
"The expectation when you race for GB is to win, especially if you are in the women's team pursuit, so it is a big slot to fill," she added.
"I have been to world championships before, but as a senior it is a big step up. Before Glasgow, this felt out of reach, being part of the team for this worlds. The next [2014] worlds was my goal, but then after Glasgow, I thought 'Yeah, I think I can do this'.
"It's pretty nerve-wracking, but if I am doing something wrong, they [Trott and King] are the ones that are going to know about it because they are the best in the world, so it can only be positive."
Barker has had just a matter of weeks to acclimatise to riding alongside Trott and King, with a short spell in the run-up to the Glasgow world cup being followed up with another brief stint ahead of Minsk.
However, she has been warmly welcomed by her more celebrated team-mates and now feels fully integrated into the group.
"The first time I rode with them was about two weeks before Glasgow," she explained. "I was so nervous, but it got better as the week went on. They were really nice and really welcoming so, I felt part of the team.
"If you overthink it, they have got Olympic medals, world titles, they could have this air about them, but they don't and they are really easy to get on with, so that made it a lot easier to gel into the team."
Growing pains
Barker's progression to the senior world championships has been made all the more remarkable by the fact she is still at sixth form.
However, she has to fit in studying biology and PE around commitments on the bike and confessed her grades have suffered as a consequence of her rise up the British Cycling ladder.
"It's pretty hard," she admitted. "I feel like this year I have pretty much taught myself. So far in 2013, because of the snow, I have had I have two days in school, which is not really ideal.
"My grades are slipping a little bit, but I am trying my hardest to keep them up there, as well as doing my best in cycling."
The world championships take place from February 20-24.