Kian Emadi could play key role in bid for team sprint gold, says Jason Kenny
Kian Emadi could help Britain to team sprint gold at the Track World Championships, says Jason Kenny.
Last Updated: 19/02/13 3:47pm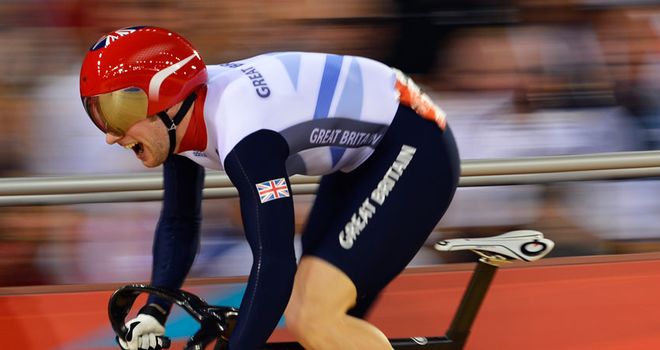 Emadi is the favourite to join Kenny and Philip Hindes in the British men's trio as a replacement for Sir Chris Hoy, who is taking a break from the sport.
Matt Crampton is also in contention, but Emadi has built on the form that saw him crowned British kilometre champion last September and is currently in pole position to occupy the man No 3 spot.
Kenny said: "It's impossible to ignore that Kian is going quicker than anyone at the minute and he has shown real speed.
"He has obviously been working really hard while we have been at the Olympics. He has been working away quietly and he is getting the rewards for that now. It is very possible he could be in the starting line-up.
"Then it depends on what Phil and I do in front of him. If we do get it together and do what we are capable of, we could end up going fairly fast and being quite competitive and hopefully pushing for the win. We are certainly going to be there or thereabouts."
Kenny, 24, has travelled to Belarus with three Olympic titles to his name but only one world crown - and even that came by default after 2011 individual sprint champion Gregory Bauge was stripped of the honour for a doping violation.
Making amends
Kenny wore the world champion's rainbow jersey only once, at the 2012 London Track World Cup, after a low-key presentation in the bowels of the Olympic Velodrome, where six months later he won individual and team sprint gold.
The belated honour gave him little pride and he is determined to claim a world title outright this time around.
"That was a bit of a rubbish way to win the worlds in 2011," Kenny said. "If I was to win it again in the future I would want to win it properly on the day.
"I will be doing everything I can to put myself in the best place possible. I really want to win."
Emadi, meanwhile, is keen to look past the pressure of the world championships and is instead focusing on nailing down his place in the team.
He explained: "Obviously it's exciting to be selected and a big honour to go, but at the end of the day it is another bike race.
"If you can apply the same sort of steps that you do in training and your usual racing then everything should sort of turn out all right.
"Chris has stepped down for a bit so they are looking for a replacement for the team for man three.
"That is the position they are looking to fill, obviously it is big shoes to fill and Jason and Phil are the best in the world in their positions on their day, so it is going to be exciting, but you just have to go for it and see what happens."
The world championships take place from Wednesday, February 20, to Sunday, February 24.