Giro d'Italia to start in Belfast in 2014 and also visit Armagh and Dublin
Ireland will host the first stage of next year's Giro D'Italia, organisers confirmed on Thursday.
Last Updated: 21/02/13 7:34pm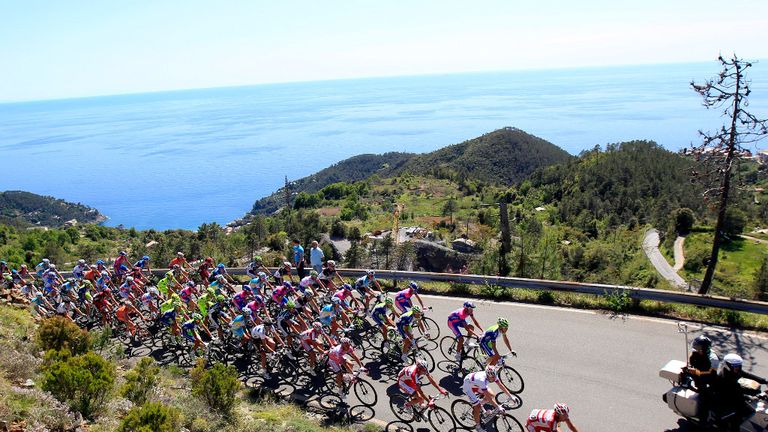 With Yorkshire having already secured the Grand Depart of the 2014 Tour de France, the tour of Italy will begin in Belfast on the first of three days on the Emerald Isle from May 10-12 that will also take in Armagh and Dublin.
It is understood the first two stages will be held around Belfast, with the third day starting in Armagh and ending in Dublin.
Michele Acquarone, head of RCS Sport, which organises the Giro, said: "It is a great, huge dream that we had some years ago and it has become a reality.
"Belfast will provide spectacular backdrops for the 2014 'Grand Partenza' and will add something very special into the history of this great cycling event."
The Giro has been held outside of Italy on 10 occasions, but never before in the United Kingdom.
The proposal was submitted by the Northern Ireland Tourist Board and Failte Ireland in conjunction with Stormont and the Irish government.
It is estimated that hosting the event will cost £4m, but it is expected to generate up to £10m for the local economy.
Northern Ireland tourism minister Arlene Foster said: "Plans are already in motion to make the occasion a fabulous celebration worthy of Italian cycling traditions and the maglia rosa [pink jersey] itself. We are going to cover Northern Ireland in pink."
The 2014 Tour de France will begin with two stages in Yorkshire followed by a third finishing on The Mall, London.
Sir Bradley Wiggins has pledged to focus on the Giro this year rather than defending his Tour de France title.
Ireland's Stephen Roche, who triumphed in the 1987 Giro a couple of months before his Tour de France victory, was delighted with the news.
"When you see all the people on the roadsides of Italy, the enthusiasm of poor and rich, they all come together for this event," he said.
"When you consider the passion these people have, the passion these people have shown to us this morning, it is duplicated throughout the whole Italian nation."