Andy Schleck dismisses 'drunk' claims and vows to be competitive at Tour de France
Andy Schleck has insisted he can be competitive at the Tour de France despite a poor start to 2013.
By Matt Westby
Last Updated: 19/03/13 2:49pm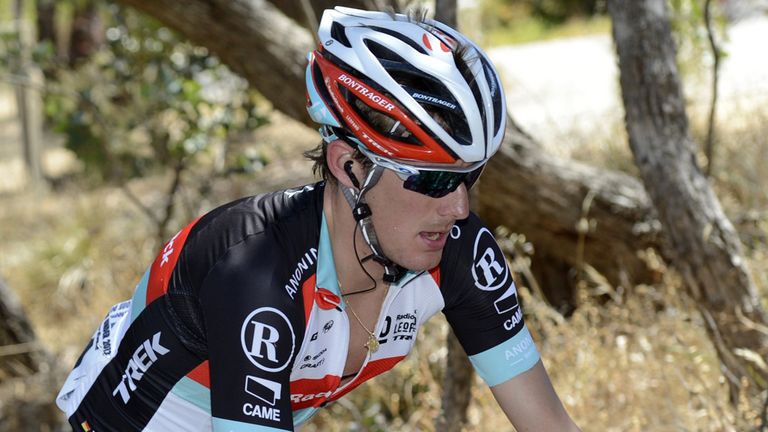 The RadioShack-Leopard rider has endured a torrid beginning to the 2013 season, finishing only one race so far and abandoning the other four he has started.
His latest withdrawal came at Tirreno-Adriatico last Tuesday, after which French politician Pierre-Yves Le Borgn said he saw the Luxembourger in an intoxicated state later that day.
In a television interview with RTL on Monday, the 2010 Tour de France winner refused to acknowledge the story, but stressed he can return to the top of his sport.
"The Munich story is ridiculous," he said. "I forgot pretty fast about it and I don't want to comment on it any more.
"I am optimistic. I am working hard - harder than before. I believe that I can be a great cyclist once again.
"I will keep on working hard and I know that the people who believe in me will keep believing in me. I hope it will work out better in the future.
"My goals are still the same. The Classics with Liege [Liege-Bastogne-Liege] and the Tour de France. I hope I can show a high level and we will see how far that will take me."
Downward spiral
Schleck's descent from Tour champion to regular retiree began at last summer's Criterium du Dauphine, when he broke his pelvis in a fall on the stage-four time trial.
The injury saw him miss the Tour and Vuelta a Espana, and although he returned at the end of the season for Binche-Tournai-Binche and the Tour of Beijing, he finished neither race.
He hoped to be fully fit for winter training ahead of the new season, but those intentions failed to come to fruition and Schleck is now paying the price with a lack of fitness and form.
"Of course I hoped for more for the beginning of this season," he added. "After the horrible last year with my fall, I thought I would have a good winter training with my team-mates in Spain and then it would work out. But I had a different experience because my injury kept me from working as hard as I would have hoped to.
"Then I participated in my first races where I felt like I was doing all right, physically. It isn't only a physical challenge to be a part of the peloton, but also a mental one. You have to get accustomed again to long races in the rain and fast sprints and descents.
"I'm working on it and I noticed that it went better during the last race, except for the last stage where I was exhausted."