Peter Sagan issues apology for pinching podium girl's bottom
Peter Sagan has apologised for pinching the bottom of a podium girl after the Tour of Flanders.
Last Updated: 02/04/13 4:08pm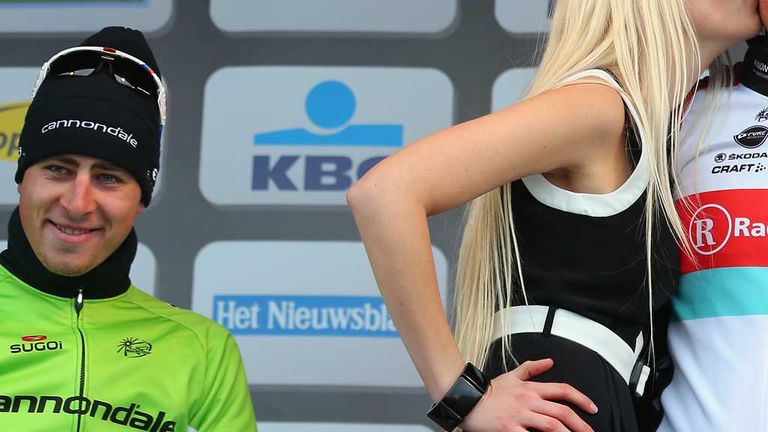 The Slovak cyclist found himself in hot water after pictures of the incident spread around social media.
The podium girl, Maja Leye, was kissing race winner Fabian Cancellara when Sagan - who finished second - strayed.
Sagan has released a video apology, saying: "It was wrong. And I wasn't thinking.
"I sincerely apologise to Maya for what I did on the podium yesterday after the race, because it was wrong of me and I don't [sic] thinking when I was up on the podium.
Apology
"I never should have done it. I am so sorry and I hope that Maya and anyone else I have offended knows how sorry I am and accept my apology. I promise to act more respectfully in the future."
Leye told a Belgian newspaper: "It was completely inappropriate. You can't do something like that. Why didn't I just turn around and slap him?
"There were one million people watching. I was surprised to feel his hand while I was kissing Cancellara.
"I knew right away what happened and in a split second, I decided that I had to remain calm. If I had reacted, it would have been a lot worse.
"Afterwards I didn't speak to him, but I stared at him to say, 'You shouldn't have done it.'"