Giro d'Italia: Sir Bradley Wiggins predicts close battle with Vincenzo Nibali
Sir Bradley Wiggins has singled out Vincenzo Nibali as his main rival for victory at the Giro d'Italia.
By Matt Westby
Last Updated: 01/05/13 6:16pm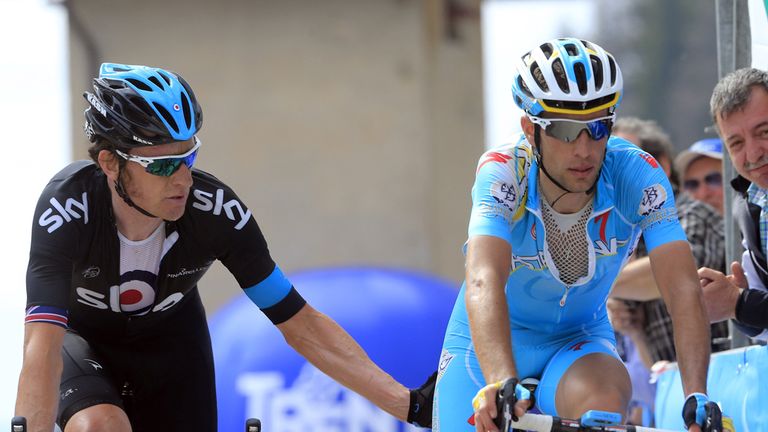 The Briton and Italian are clear favourites to win the opening Grand Tour of the season, which takes place between May 4-26 over a route that combines punishing climbs with testing time trials.
Wiggins conceded he expects to lose time to Nibali on the race's six summit finishes, but anticipates he will then claim it back on the two individual time trials, setting up a gripping finale.
"[Nibali] is the man to beat, for me," Wiggins said. "I think he is in better shape than he has ever been in, definitely. He has got everything really, all the attributes to win it: steep climbing, all those tricky little descents, all the other things that the Giro throws at you that he is well prepared for, he has got a strong team.
"I still don't know at this stage whether I will stay with Nibali on some of those real tough finishes, the real steep ones, but I know that I am not going to lose a handful of time.
"I may lose a couple of seconds here and there - at most on some of those real tough finishes I may lose 20 seconds, if I am on a bad day.
Limiting losses
"But that is all I have to do really, because I am confident that in the time trials that are there, of what I have seen, I can take time on him.
"In terms of time and calculations and where you can lose here and there, it is going to be close. There is not going to be a lot in it."
Although the 2013 edition of the Giro is less mountainous that previous years, summit finishes on legendary climbs such as the Col du Galibier and Tre Cime di Lavaredo still play to Wiggins's weakness.
The 33-year-old Team Sky leader has struggled to keep pace with the world's best climbers in previous Grand Tours and has consequently tailored his winter training specifically to riding uphill and, in particular, the climbs to be used in the Giro.
Although Wiggins kept a low profile in the spring's build-up races, finishing fifth at both the Volta a Catalunya and Giro del Trentino, he insisted his route-specific build-up sends him to Italy in stronger form that ever.
"I am in a better place than I was going into the Tour last year," he added. "But it has been a different run-in this year. It has been a lot more specific to what the demands of the Giro are.
Climbing training
"Most of the Giro is uphill this year, so you have to train uphill. That has been the biggest difference this year. We have trained more consistently to climb better on steeper climbs, so that is all my training consists of. Based on what we saw a couple of weeks ago [at Trentino], I have made huge improvements in that area."
Despite putting all of his energy into climbing, Wiggins is adamant his time-trialling ability - usually his strongest suit - has not suffered.
"I haven't really been on the time trial bike this year," the 2012 Olympic time-trial champion explained. "Fortunately, it hasn't really affected my time-trialling. Although I haven't raced a time trial this year, it hasn't affected the training sessions we do - the numbers are same as last year."
While Wiggins will be keeping a close eye on Nibali, he is not discounting challenges being mounted by other riders with the race winner's maglia rosa in their sights.
Hesjedal threat
Canada's Ryder Hesjedal returns as the defending champion following his surprise win in 2012, while Cadel Evans, Ivan Basso, Michele Scarponi and Samuel Sanchez are all expected to finish high up the general classification.
"None of them I underestimate, but Hesjedal in particular, no one expected that of him last year," Wiggins said.
"I saw him in Catalunya this year and he looked a shadow of himself last year, and I thought 'He is not going to make it in time'. But then you see him in the Ardennes [Classics] a couple of months later and he was like a different rider, so all of a sudden you think he is back to where he needs to be.
"Basso was shadow of himself in Trentino but he has been like that in the past on the Giro, so you just never underestimate anyone really. They are all potential rivals."