Sir Dave Brailsford confirms Chris Froome will lead Team Sky at Tour de France
Sir Dave Brailsford has confirmed Chris Froome will lead Team Sky at the Tour de France.
Last Updated: 08/05/13 11:29am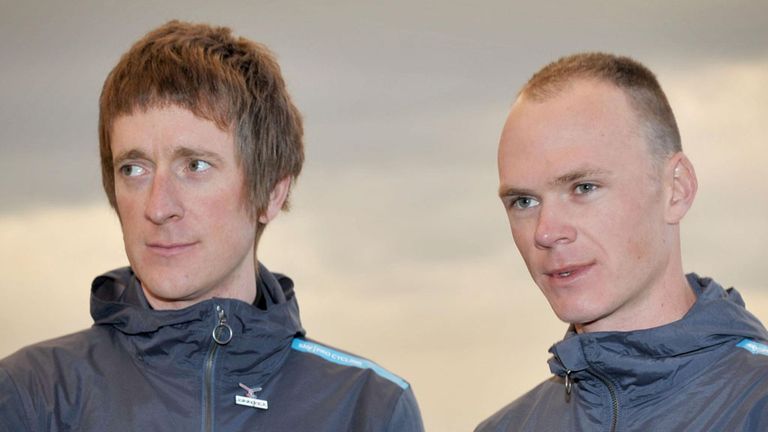 The role has been the subject of intense speculation in recent months, with both Froome and Sir Bradley Wiggins laying claim to it and suggesting they are targeting overall victory.
Froome believed the issue had been settled in his favour in January, but Wiggins said last week that the leadership might not be decided until midway through the race.
That prompted Froome to release a statement reiterating his stance, and Team Sky principal Brailsford has now given the Kenyan-born rider his formal backing.
He told teamsky.com: "As always, the team selection is a management decision and it will be evidence-based. However, it is crucial there is clarity of purpose and, for that reason, we will go to the Tour with one leader.
"Taking that into consideration and given Chris's step up in performances this year, our plan, as it has been since January, is to have him lead the Tour de France team.
"With over seven weeks until the Tour and the Giro [d'Italia] to focus on, our final selection of nine won't be confirmed until after the [Criterium du] Dauphine.
"Everyone here is 100 per cent focused on this race [the Giro] and the next three weeks."
Months of speculation
The debate over Team Sky's leadership at the 2013 Tour effectively started at the 2012 race, when Froome finished runner-up to helping Wiggins, having helped his team leader win, but also unexpectedly attacked him in the mountains and shown superior climbing ability.
After the race, Wiggins suggested he world to repay his chief domestique's support, and Froome duly embarked on a winter training programme centred around an assault on the 2013 Tour.
However, after being named BBC Sports Personality of the Year in November, Wiggins revealed he would be keen to retain his Tour title and even bid for a Giro-Tour double.
That seemed to have been quashed in January, when the team decided Wiggins would build his season around the Giro and Froome the Tour, and build-up races were announced for each rider accordingly.
Froome has since gone on to enjoy a superb season, winning the Tour of Oman in February, Criterium International in March and Tour de Romandie to cement his status as one of the favourites to win the yellow jersey in Paris.
Brailsford insisted that the team has never wavered from the initial plan.
"We are in a fantastic position," he added. "We have two of the best GC [general classification] riders in the world and they are both great racers with a competitive will to win.
"Since the start of season, Bradley's performance plan has focused around training specifically to try and win the Giro and then ride the Tour, while Chris's has been focused on attempting to win the Tour.
"Now we are here. The Giro has started and Bradley has done a brilliant job of getting in the best-possible condition for his assault on the race."