Vini Fantini-Selle Italia rider Mauro Santambrogio suspended for positive EPO test
Vini Fantini rider Mauro Santambrogio is provisionally suspended for testing positive for erythropoietin (EPO).
Last Updated: 03/06/13 4:39pm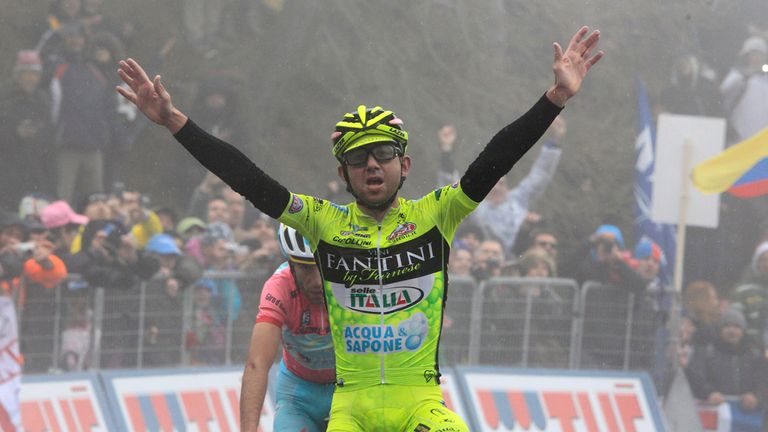 A doping test carried out on the Vini Fantini-Selle Italia rider during last month's Giro d'Italia returned an "Adverse Analytical Finding of EPO in his urine sample" just 10 days after former team-mate Danilo Di Luca was provisionally suspended for allegedly using the same substance.
A UCI statement read: "The UCI advised Italian rider Mauro Santambrogio that he is provisionally suspended.
"The decision to provisionally suspend this rider was made in response to a report from the WADA accredited laboratory in Rome indicating an Adverse Analytical Finding of EPO in his urine sample collected at the Giro d'Italia on May 4, 2013.
"The provisional suspension of Mr Santambrogio remains in force until a hearing panel convened by the Italian Cycling Federation determines whether he has committed an anti-doping rule violation under Article 21 of the UCI Anti-Doping Rules.
"Mr Santambrogio has the right to request and attend the analysis of his B sample. Under the World Anti-Doping Code and the UCI Anti-Doping Rules, the UCI is unable to provide any additional information at this time."
The 28-year-old Italian finished ninth overall at the Giro having won a mountainous 14th stage between Cervere and Bardonecchia.
His compatriot Di Luca was excluded from the last three stages and later sacked by Vini Fantini-Selle Italia after testing positive for EPO in a surprise test conducted on April 29.
Di Luca previously served a nine-month ban for using CERA during the 2009 edition of the Giro and was disqualified for three months after winning the 2007 tour due to his association with banned doctor Carlo Santuccione. He therefore faces a possible lifetime ban for a third offence.