Tour de France: Chris Froome admits Sir Bradley Wiggins's absence is a blow
Chris Froome has admitted Bradley Wiggins's absence is a blow to his chances of winning the Tour de France.
By Matt Westby
Last Updated: 18/06/13 7:02pm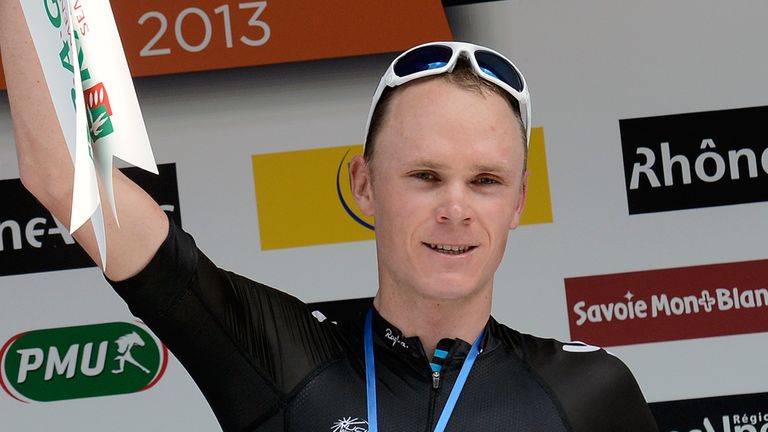 The two Team Sky riders had both been set to contest for places on the podium in cycling's summer showpiece until Wiggins was withdrawn from selection contention due to a knee injury.
The 2012 Tour winner's exclusion put an end speculation over who would lead the team, which had continued to mount despite Froome having been given the nod by principal Sir Dave Brailsford.
Although the 28-year-old Kenyan-born rider is relieved a potential media storm has been avoided, he conceded not having the reigning champion working in support on him is a loss and has backed his compatriot to bounce back.
"Having Brad would have added a huge element to the strength of the team, but I do believe we have got all our bases covered with the riders we do have," Froome said.
'He will bounce back'
"He wanted to focus on the Giro d'Italia this year. Unfortunately, that didn't go to plan. I am sure he will bounce back and be targeting other races for later on in the season.
"We are not just talking about some neo-pro. He is the guy who won the Tour de France last year. He knows what he is doing and I have no doubt he will be back."
Froome goes into the Tour as the clear favourite after winning the Tour of Oman, Criterium International, Tour de Romandie and Criterium du Dauphine already this season and repeatedly beating his closest rivals in the mountains.
Those successes have given him a chance to adapt to the pressures of wearing the yellow jersey and also instilled a confidence that he can improve on his second place at last year's Tour.
'Ticked all the right boxes'
"So far this year I feel we have ticked all the right boxes in the build-up to the Tour de France," Froome added.
"Winning those races in their own respect - those are not small races - has given me a lot of confidence. It has given team-mates around me a lot of confidence in my ability to lead the team.
"But more importantly it has given me the opportunity to be in this position to start getting used to start answering more questions to the press and having to deal with the different pressures which come with being the leader."
Froome also admitted that not having Mark Cavendish in the Team Sky squad will be a benefit.
Cavendish, the then world champion, rode for Team Sky last year and was keen to be supported in sprints, adding extra demands on support riders already geared towards helping Wiggins in the mountains. This year, all eight team-mates will be riding solely for their leader.
Tour domination
"We do have a very clear objective this year to go for the yellow jersey and we won't be thinking of the element of having Cavendish there anymore," Froome explained. "I guess in that way it is a good thing."
The Tour starts in Corsica on June 29 and ends in Paris three weeks later, on July 21.
Froome admitted he is nervous, but feels he is entering his best years as a rider and hopes a maiden Tour win can trigger a period of domination at the race.
"As a career goal, I would like to try and target the Tour for the next six, seven years, which I believe to be my peak years," he added. "I believe I am coming into my prime right now.
"If I can win one Tour, I would be ecstatic with that, I'd be really happy. For now we're going to focus on this one coming up and hopefully give that one everything."