Tour de France: Mark Cavendish defends actions after collision with Tom Veelers
Mark Cavendish says there is "no way" he deliberately caused a crash on stage 10 of the Tour de France.
Last Updated: 10/07/13 6:44am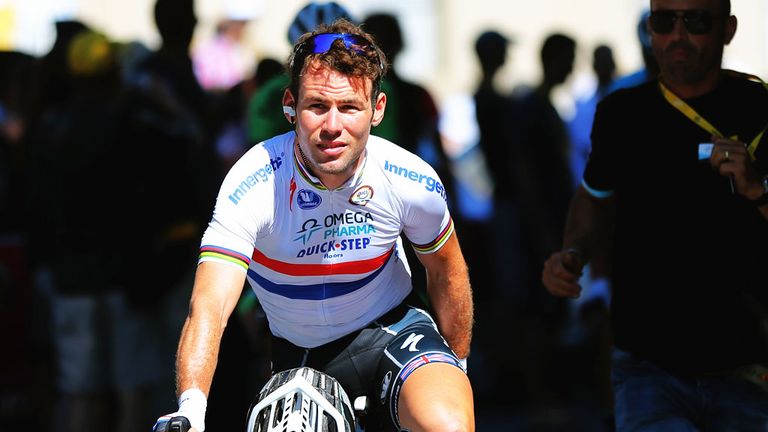 Cavendish collided with Veelers in the final yards of the 197km trip from St Gildas-des-Bois to St Malo, leaving the Dutchman on the tarmac as his Argos-Shimano team-mate Marcel Kittel went on to take the stage ahead of Andre Greipel.
Afterwards, the Briton was involved in an angry confrontation with a journalist who asked if the incident was his fault. Cavendish reacted by saying, "Was what my fault?" before snatching the reporter's tape recorder and retreating into his Omega Pharma - Quick-Step team bus. It was later returned.
Greipel and Lotto-Belisol team-mate Greg Henderson publicly condemned Cavendish's role in the accident, while Veelers also blamed the Maxman.
Cavendish initially appeared uncertain as to what happened, writing on his Twitter feed: "Not seen a replay of the final yet, but was involved in an incident with Tom Veelers. Whatever has happened, if I'm at fault, I'm sorry."
Cavendish defiant
But two subsequent Tweets amounted to a fierce defence of his racing ethics after another chance to equal Andre Leducq's 25 stage wins had gone begging.
Cavendish first said: "There's no way I'd move on a rider deliberately, especially one not contesting a sprint. I hope Tom Veelers is ok."
And after watching replays of the incident, he added: "I believe I didn't move line. I'm actually coming past Veelers and we touch elbows when he moves. Anyway, hope he's ok."
Veelers disagreed. He told reporters: "Mark Cavendish came on me, steering in front of me, and sort of pushed me off my bike.
"It is what it is. It happened. I cannot turn it around. The jury has to decide what they do. I lost a lot of skin and have some bruises.
Veelers blames Cavendish
"It was Mark Cavendish's fault. I think it was pretty clear from the video as well."
Greipel appeared to criticise Cavendish in a tweet that read: "Hope Tom Veelers is fine after that hard crash. Unnecessary and scary."
Henderson went further, saying: "Really hope Tom Veelers is ok. Completely knocked off his bike unnecessarily. That's not professional."
Cavendish found an ally in Kittel, who said: "I cannot imagine he did that on purpose, it just happens sometimes in a hectic final.
"You can see that Cavendish really bumped into the handlebar of Tom but it doesn't look like he does it on purpose. Tom swings off to the right and Cavendish to the left - and it's just very unlucky at that moment."