Tour de France: Chris Froome and Sir Dave Brailsford deny doping in wake of Ventoux win
Chris Froome has staunchly denied doping in the wake of his emphatic win on Mont Ventoux.
By Matt Westby in Orange
Last Updated: 15/07/13 5:34pm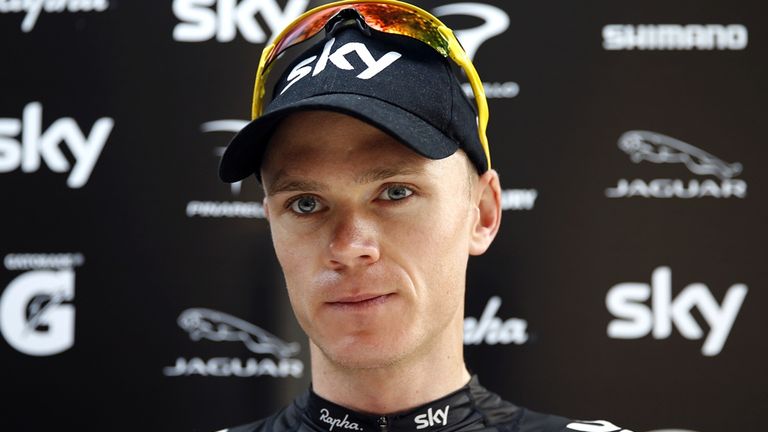 Speaking to the world press on the Tour de France's second rest day, the 28-year-old Briton admitted he was "sad" that his "historic" victory on stage 15 had been greeted with more questions about cheating.
Sir Dave Brailsford also hit out at the persistent scepticism surrounding Team Sky and said he would be happy to see the biological passport system improved in order to prove the squad's integrity.
Froome, who leads the Tour by 4min 14sec, dropped all of his general classification rivals and then Colombian climber Nairo Quintana on the way to a stunning solo victory on Mont Ventoux, but was quick to shrug off comparisons with Lance Armstrong.
"It is just quite sad that we are sitting here a day after the biggest victory of my life, quite an historic win, talking about doping," he said.
Questions 'not cool'
"My team-mates and I have slept on volcanoes to get ready for this, we have been away from home for months training together, working hard to get here. Here I am being accused of being a cheat and a liar, and that is not cool.
"I don't know about that other stuff [doping]. I know what I have done to get here and I am extremely proud of what I have done. Lance cheated, I'm not cheating. End of story."
Brailsford admitted he was growing tired of answering repeated questions about doping and revealed he is keen to see modifications to the monitoring of riders' performance in order to lay any doubt to rest.
He ruled out the possibility of releasing power data, but said he would like to see the biological passport, which focuses only on blood, expanded in order to take into account other variables.
"We are thinking very hard of the optimum way of proving that we are not doping," he said.
Brailsford tired
"We have been thinking about the biological passport and how that works, with a panel of experts who get all the blood data from everybody and they evaluate that.
"But, theoretically, the biological passport should be blood value, weight, power - it should be the whole picture of that individual, not just blood values.
"Maybe Wada [the World Anti-Doping Agency] could appoint an expert and they can have everything that we have got. They could come and live with us and have all of our information, they could see all of our data, they could have access to every single training file that we have got."
Meanwhile, Kenya-born Froome also reiterated that he is proud to be British and was not disappointed to see his achievements overshadowed by other British sports stars and teams.
"One hundred per cent, I feel British," he said. "I don't know what else I would be. I am extremely proud of being British and the messages I am receiving from the thousands of British fans and British supporters have been all positive and I really appreciate those messages."