Tour de France: Alberto Contador says Chris Froome is impossible to beat but is clean
Alberto Contador has described Chris Froome as "impossible to beat" in a head-to-head battle.
By Matt Westby in Avignon
Last Updated: 15/07/13 5:03pm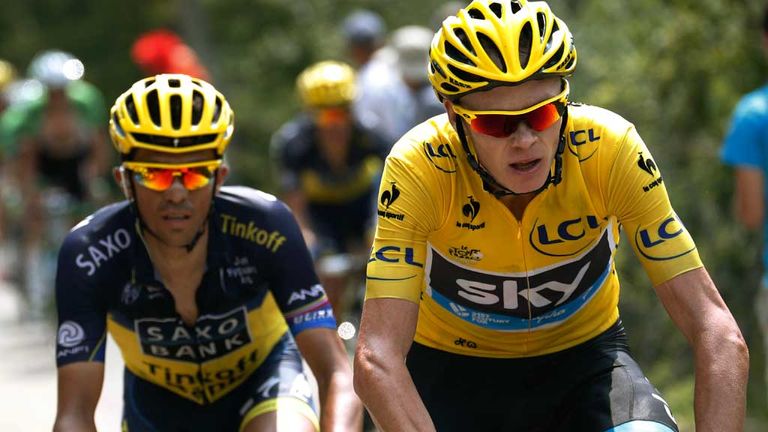 Contador has been comprehensively out-climbed by Froome so far in this year's race and lies 4min 25sec behind the Briton in third place in the general classification
The 30-year-old Saxo-Tinkoff rider was the dominant force in the mountains when he won the Tour 2007 and 2009, but, speaking during the second rest day, he readily admitted Froome now holds that mantle and does so with a clear conscience.
Contador, who threatened to walk out of his press conference if he was asked more than two questions on doping, said: "There is no reason to doubt Froome. He is a big professional. He has a very high level. He has been at that level for the whole year. His performance is because of his work.
'I believe in him'
"There are some times when you are stronger and some times not. I believe in him and am absolutely confident in his performance.
"It is true that my objective here was to win, but the leader [Froome] is on a level above the rest of the people. Face to face, it is impossible to beat him."
Despite appearing to lose his climbing prowess, Contador remains confident in his ability to win a race through tactics and timing.
He effectively won last year's Vuelta a Espana with a surprise attack on a rolling stage and revealed he has identified a day of this year's Tour when he will attempt to repeat the feat.
"It is true there is a stage where I want to see what can happen," he said. "It can be a good day to try something.
Cards still to play
"There is a week waiting for us that is very hard and tactically complicated. I am going to look for an opportunity. There is a very important stage and in the next week you will know which one it is."
Despite revealing his intentions, Contador admitted it will take a near-miracle to replicate his race-winning performance at the Vuelta.
In that Grand Tour he overhauled a 2min 4sec gap to Spanish compatriot Joaquim Rodriguez with his shock solo win on stage 17, but his deficit to Froome in this year's Tour is more than double that.
"There are two big differences between the Tour and the Vuelta," Contador said. "The first is the leader is a bigger distance ahead, and the second is that face to face, he is superior. At the Vuelta, we were at the same level."