Tour de France: Chris Froome accuses Alberto Contador of taking 'unnecessary risks'
Chris Froome accused Alberto Contador of taking "unnecessary risks" on stage 16 of the Tour de France.
By Matt Westby in Gap
Last Updated: 17/07/13 8:52am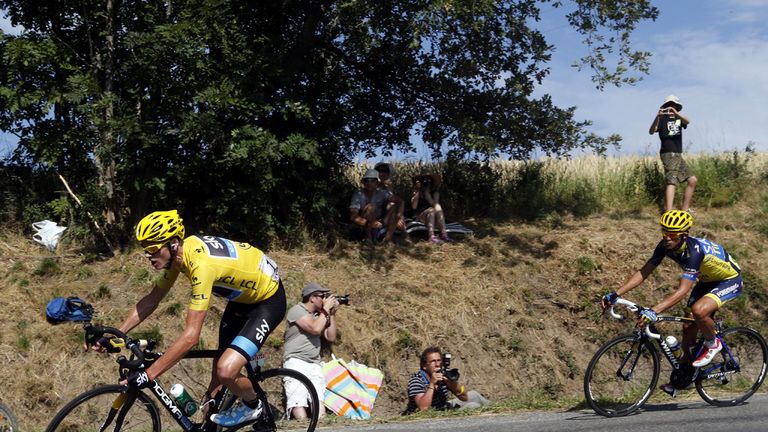 Froome had to run off the road in order to avoid Contador, who had fallen on a tight right-hand turn after appearing to enter the corner too fast.
Both men were able to re-join a select group of general classification contenders and crossed the line at the same time, but Froome was unhappy with his rival's approach to the stage.
"Alberto was really taking risks on the descent," he said afterwards. "He actually crashed, took himself down on a corner in front of me and that actually put me in danger.
'Dangerous descent'
"Personally, I do think he was taking too many risks down there and evidently he did go a little bit too fast that he couldn't even control his own speed and he crashed.
"Everyone knows it is a dangerous descent. I was aware it was coming, but I didn't really think the guys were going to take unnecessary risks.
"I personally think teams are starting to get desperate now and are therefore taking uncalculated risks."
Contador defended his actions and promised to continue riding aggressively at the Tour.
"It is not a motivation to scare the others but sometimes you have to do it," the two-time winner said. "I will continue.
"I hope that the crash doesn't affect me. The most important thing is to be relaxed now because tomorrow is an important day. My legs are getting better. I am confident I can put on a great show."
'Race not over yet'
Although Froome escaped the incident unscathed, it served as a timely reminder that his 4min 14sec lead in the general classification is potentially fragile as it is comfortable.
The final week of the Tour is laced with the climbs on which he excels, but also descents that could just as easily prove his undoing.
He added: "One second you could be going for the finish and about to win the race and the next you are lying in a ditch with a broken bone. Nothing is guaranteed in cycling.
"Like we have seen today, this race is still far from over and one incident, one mechanical, or one crash at the wrong moment and your Tour can be over.
"This Tour is not over until I cross the final line on the Champs-Elysees."