Tour de France: Geraint Thomas insists Team Sky have no fears about Col de Sarenne descent
Geraint Thomas believes Team Sky have nothing to fear on Thursday's descent of the Col de Sarenne.
By Matt Westby in Chorges
Last Updated: 18/07/13 9:54am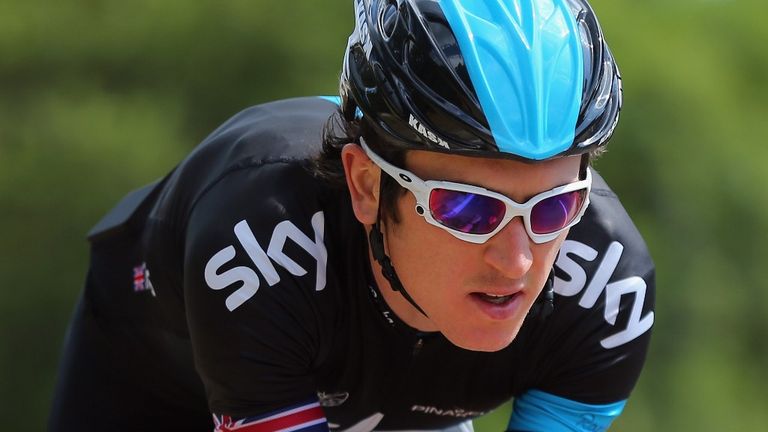 Froome had to run off the road to avoid rival Alberto Contador after the Spaniard had entered a tight corner on the Col de Manse too fast and crashed.
Both men were able to remount their bikes and finish on the same time as the other general classification contenders, but Froome later accused Contador of taking "unnecessary risks".
Contador replied by vowing to continue to push boundaries and could now target Thursday's stage 18, which offers scope for more downhill attacks, and in particular off the Sarenne.
'Take it steady'
The road has steep drop-offs that could make reckless moves dangerous, but Thomas insists there is no reason to be overly concerned.
"I think it is OK as long as we take it steady," he said after completing his stage 17 individual time trial in Chorges.
"We did it in the [Criterium du] Dauphine and we went down it in front. I didn't look too much over the side but, apparently, there are a quite a few big drops.
"It is basically down to how we ride it as bike racers. As long as we are sensible, I think it is OK. But if somebody wants to attack down there like crazy, then [there could be problems].
"[It] would be stupid [to attack] anyway because you have still got the valley road and then Alpe d'Huez after."
Thomas is still riding in the Tour, despite suffering a fractured pelvis on stage one in Corsica.
Recovery trail
The Olympic gold medal-winning track cyclist fought through the pain barrier for several days to remain in the race and although he admits he is now feeling the effects of that exertion, he is determined to support general classification leader Froome all the way to Paris on Sunday.
"It is a lot better now," the Welshman added. "I can get out of the saddle for a start, which helps. It has taken a lot to get through the race and I am definitely feeling it.
"But we have got a lot to race for with Froomey in the jersey and it is going to be three really tough days now. That is motivation enough to keep going and do our best for Froomey.
"My role in the team has changed [after the injury] but I am still getting stuck in. The race is definitely not over."