Tour de France: Chris Froome surprised by superb victory on stage 17's time trial
Chris Froome admitted his victory on the Tour de France's stage 17 individual time trial was a surprise.
By Matt Westby in Chorges
Last Updated: 17/07/13 7:28pm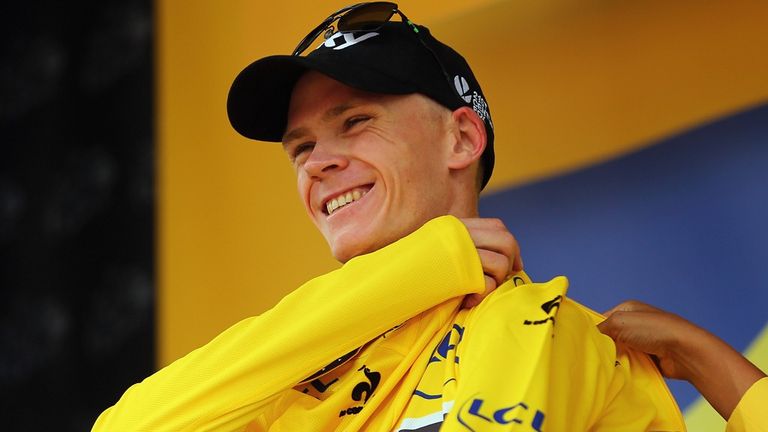 The Briton claimed his third win of this year's race by beating Alberto Contador into second place by nine seconds as he extended his overall lead in the general classification.
He had intended to ride at less than 100 per cent in order to save energy for three taxing Alpine stages to come, and that position was further emphasised when heavy rain made the 32km route between Embrun and Chorges treacherous.
However, thanks to a well-planned and perfectly executed ride, he far exceeded his own expectations.
"I had gone into today actually wanting to hold back a little bit for the next few days coming up," Froome said afterwards. "I didn't want to spend everything today and be wrecked for tomorrow.
'Prepared to lose time'
"I was actually prepared to lose time on this time trial, so to come away with a stage win, I am really surprised and happy with that."
Key to Froome's victory was changing from a road bike to a time trial bike after the second of the course's two categorised climbs.
He had trailed Contador at all of the three intermediate splits before that point, but with the Spaniard opting to stay on his road bike for the descent to the finish line, the deficit was comfortably overturned.
Froome added: "Changing bikes was a call that I made this morning after seeing the course and thinking more about the gearing on the bikes - to be able to have a much bigger part for the descent. I do believe that helped me make up a bit of time on Alberto.
"It wasn't something we had practised. I actually did the bike change in training this morning for the very first time, so I am really happy with how it worked out."
Froome now holds a 4min 34sec lead over Contador going into stage 18, which will see the peloton climb Alpe d'Huez twice, with a descent of the notorious Col de Sarenne sandwiched in between.
Alpe d'Huez concern
Race organisers have hinted the stage finish could be brought forward to the top of the first Alpe d'Huez ascent should forecasted rain materialise, and Froome was quick to support the stance.
"It would be sad not to do the planned parcours of two times up Alpe d'Huez," he said. "That has definitely got something special about it, with this being the 100th edition of the Tour de France.
"But having said that, safety definitely comes first and that is a dangerous descent as it is, so if it starts raining, I would hope that the race organisers take the decision to make it only one time up Alpe d'Huez.
"At the end of the day, all the riders are going to be in the same conditions there, so if we have to do a dangerous descent in the wet, then we are up for that. Everyone is in the same boat.
"I just hope that, safety-wise, it is not going to get to that, because it is a very dangerous descent and the road surface is not great."