Tour de France: Team Sky release Chris Froome's power data and offer WADA full access
Sir Dave Brailsford has offered the World Anti-Doping Agency full access to Chris Froome performance data.
Last Updated: 19/07/13 3:28pm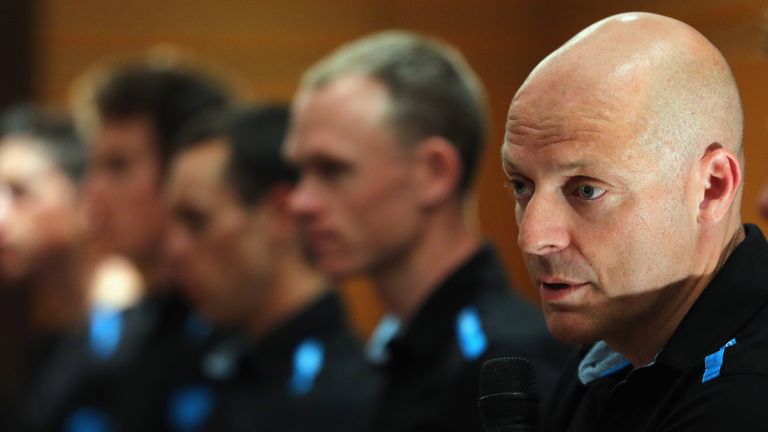 Froome has faced almost daily questioning on the matter since taking the yellow jersey almost two weeks ago with victory on stage eight in Ax 3 Domaines.
He started Thursday's stage 18 to Alpe d'Huez hours after French paper L'Equipe had published an analysis of data Team Sky had released to them to make their case.
Although Brailsford has long maintained he would not make the team's power data - numbers that show riders' output on the bike - public, he did allow L'Equipe access to results from 18 climbs tackled by Froome since the 2011 Vuelta a Espana, as well as various other pieces of biological information.
'Clean' rider
L'Equipe did not publish the information, as per their agreement with Sky, but they had it analysed by biomechanics expert Fred Grappe, who is on the Tour with the FDJ team, and he told the newspaper the data was consistent with that of a "clean" rider. "His performances are coherent," read their headline.
Brailsford later said the decision to give L'Equipe that access had been part of a pro-active response to the questioning.
"We have been in contact with WADA and UKAD (the UK Anti-Doping agency) and things are progressing," he said.
"I don't know what the process is because we have never done this before, but we are trying to react to a situation, trying to think creatively about a situation.
Data volunteered
"Nobody asked me to do this. I suggested it would be a good idea to contact them, they didn't contact me. I have gone to them and said, 'Actually, guys, we would like to give you everything that we have got. How do you feel about that?"'
Froome said the decision to open the books had been the team's rather than his own, but he was happy with the results.
"I'm really happy to hear the findings and to hear them basically backing us up, saying these performances are very good, strong, clean sporting performances," he said. "It backs up what we've been saying all along."