Chris Froome promises Tour de France victory 'will stand the test of time'
Chris Froome promised that his Tour de France victory "will stand the test of time".
By Matt Westby in Paris
Last Updated: 22/07/13 1:35pm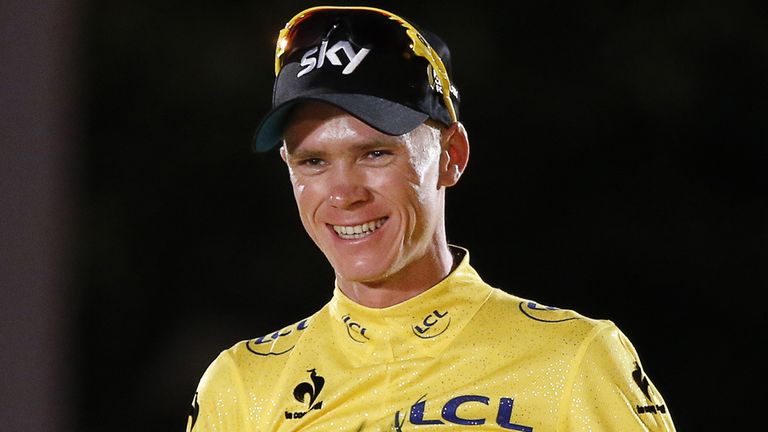 The 28-year-old Team Sky leader dedicated the triumph to his late mother, but used his victory speech in Paris to hammer home the message that both he and cycling are clean.
It follows the exposure of Armstrong as a drugs cheat last autumn, which resulted in the American's seven Tour victories between 1999 and 2005 being erased.
Froome became Britain's second successive Tour de France winner by crossing the line on the Champs-Elysees in the peloton in a spectacular night-time finish won by Germany's Marcel Kittel.
"I would like to dedicate this win to my late mother," Froome said on the podium on the Champs-Elysees. "Without her encouragement to follow my dreams, I probably be at home watching this event on TV.
'Honour'
"It is a great shame she never got to come and see the Tour. But I am sure she would be extremely proud if she was here tonight.
"To win the 100th edition is an honour beyond any I have dreamed. This is one yellow jersey that will stand the test of time."
Away from the podium, Froome said wearing the yellow jersey and having his performances doubted by doping sceptics was a responsibility he had been happy to shoulder.
It was a change in stance from the Briton, after describing doping questions as "not cool" on the race's second rest day last Monday.
He added: "In a way, I am glad that I have had to face those questions, that after all the revelations last year and just the tarnished history over the last decade, all that has been channelled towards me now.
Shouldering responsibility
"I feel I have been able to deal with it reasonably well throughout this Tour and hopefully that has sent a strong message to the cycling world that the sport has changed - and it really has.
"The peloton is standing together, the riders are united and it is not going to be accepted any more."
Froome revealed that he had been overwhelmed with emotion when crossing the finish line on the Champs-Elysees.
"It brought tears to my eyes coming over the line with the guys like that," he said. "I expected it to be big, but this is something else.
"I'm speechless. This really was an amazing way to finish off a fitting 100th edition of the Tour de France."
As Froome collected the yellow jersey he was already plotting a way to follow it with the rainbow stripes of the world champion.
Froome's entire season has been designed around the Tour de France but with victory secured he is now planning to take a run at September's world championship road race in Florence, acutely aware that a course so favourable to climbers like himself comes around only so often.
"I want to try to stay on it, to see the season through and not just switch off after the Tour," Froome said.
"I'd like to get through to the World Championships because it's an event that doesn't often favour climbers the way it does this year. It's a great opportunity to go for it."
Chances to win the worlds may be only occasional for climbers, but chances to complete Tour and world doubles are even rarer - only five men have ever done it, with Greg Lemond the last in 1989.
Tom Simpson and Mark Cavendish are the only two Britons to have won the World Championship road race, and this is an opportunity for Froome to put himself in elite company at an event which is expected to see Sir Bradley Wiggins contest the time trial.
"It would be amazing," Froome added. "My focus has just been on the Tour up until now but being world champ, that's probably the second biggest thing after wearing the yellow jersey."
"I think the important thing for Froomie is that he doesn't stop," said Team Sky principal Sir Dave Brailsford.
"You can't keep the same intensity in life no matter what you do. Everything ebbs and flows, you've got to recognise that and manage it.
"In terms of managing this success, I think he's doing absolutely the right thing to stick to a game plan, because it gives him structure.
"And I think if you stop you don't have any structure. Everything that has got him here is discipline and structure. If you take that away, you kind of lose your way."