Chris Froome and Bradley Wiggins can ride 2014 Tour de France, says Dave Brailsford
Dave Brailsford hints Chris Froome and Bradley Wiggins could line up alongside each other in next year's Tour de France.
Last Updated: 23/07/13 11:38am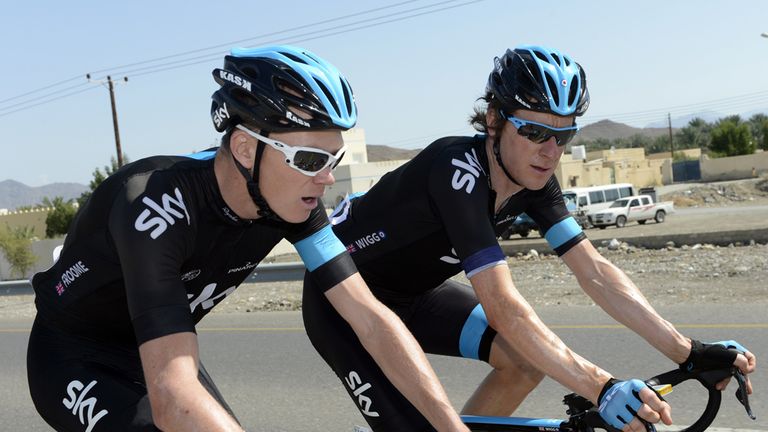 Rumours of discord between the British riders surfaced in the build-up to this year's race, when Wiggins appeared to go back on his vow to support Froome's bid for glory in favour of targeting victory himself.
Defending champion Wiggins was then forced to withdraw through injury and Froome grabbed his chance to secure an emphatic victory at the weekend.
Brailsford has admitted that there is friction between the pair, but that would not stop him pairing them together when the Tour kicks off in Yorkshire next summer.
Harmony
"I would love to do it," he said. "I would absolutely love to. I don't spend a nano-second worrying about whether they got on or not.
"People talk about having team unity and team harmony. I don't buy that at all. Most of the best teams I have been with, they are not harmonious environments.
"This is not a harmonious environment. This is a gritty environment where people are pushing really hard.
"What you need is goal harmony, and there is a big difference between the two."
Next year's Tour starts with two stages in Yorkshire and a third day into London, and is set to be one of the biggest sporting events held on British shores since the Olympics.
New objectives
Wiggins will not want to miss out on riding the Tour in front of home fans, but given Froome's peerless performance at this year's race, it is difficult to see how he could return to a sole leadership of Team Sky.
That could see the co-leadership debate resurface, with Froome and Wiggins entering the race as equals and team bosses not deciding who they will back for overall victory until midway through the race.
However, another potential sticking point is the fact that Wiggins has hinted his Grand Tour career could be over, and that he is now concentrating on other goals, such as the one-day Classics and World Championship road race.
However, Brailsford refused to entertain such speculation.
"You can't rule anything out," he added. "Once you start ruling things out, saying, 'No he can't do this, he can't do that'. We are not in the game of ruling things out, we are in the game of ruling things in."