Sir Bradley Wiggins pays tribute to Chris Froome for 'dominant' Tour de France victory
Bradley Wiggins has conceded he would not have been able to beat Chris Froome at this year's Tour de France.
Last Updated: 27/07/13 9:17pm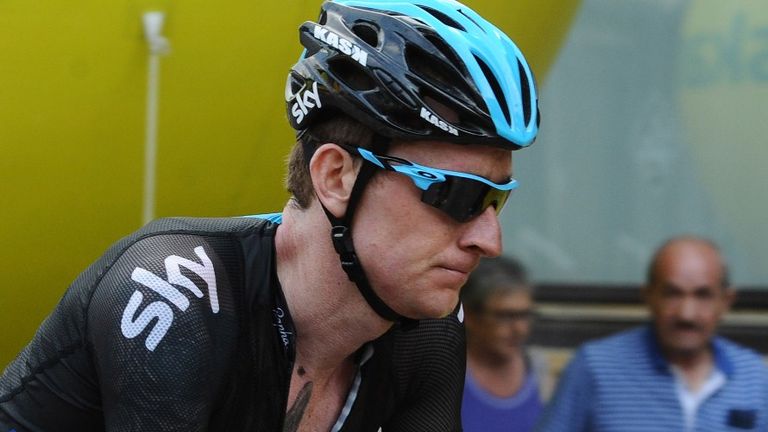 Injury and illness prevented the 2012 Tour winner from defending his title and, in his absence, Froome justified his role as favourite with a comprehensive victory.
Wiggins's withdrawal spared Team Sky boss Dave Brailsford a decision on who would lead the team, although it was widely expected Froome would get the nod given the schedule of punishing mountain stages.
And, speaking after his return to racing on stage one of the Tour of Poland, Wiggins conceded he would not have been able to compete with the younger man's climbing prowess even if fit.
'Chris is stronger'
"Chris's performance was dominant," he said. "He is probably the best climber in the world at the moment.
"I have never been the best climber. I can climb, but my specialities have always been the time trials and working back from that. A Tour like this year, Chris is the stronger rider."
Froome said earlier this week he had not received a message of congratulations from his predecessor, and it was clear from Wiggins's tone that the pain of missing the race remains raw.
He said: "I didn't watch it, I couldn't watch it. I would have loved to have been there and I found it very hard to watch. I focused on positives rather than sitting depressed in front of the television.
'Too painful'
"I watched the crash on the first stage, but only because I had heard the bus knocked the finish line down.
"After that I followed it from afar, hearing the news about what the guys were doing, but I just couldn't sit there watching it. It was too painful.
"They were brilliant. It was a great team performance and a great individual performance."
Wiggins also confirmed he will not compete at next month's Vuelta e Espana, with autumn's World Championships the next major target.
He said: "That is the obvious one, then working back, but at the moment it is small steps and not thinking too far ahead."