Chris Horner defended over missed drugs test just hours after Vuelta a Espana win
RadioShack-Leopard have defended Chris Horner after he missed a drugs test in Madrid.
By Matt Westby
Last Updated: 17/09/13 8:11am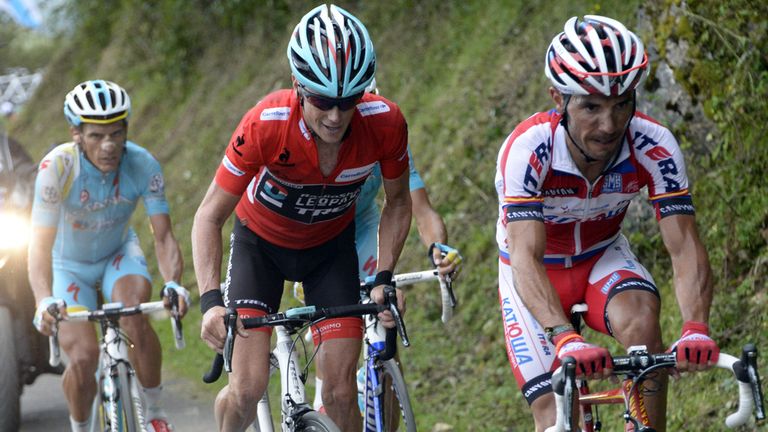 Spanish Anti-Doping Agency testers arrived at the team hotel in Madrid on Monday morning to carry out a surprise out-of-competition test on Horner, but the 41-year-old was not there as he spent Sunday night at a different hotel with his wife.
However, RadioShack-Leopard released e-mails proving that Horner had notified the United States Anti-Doping Agency (Usada) of his whereabouts prior to Sunday's final Vuelta stage and that the testers were to blame for going to the wrong hotel.
A team statement said: "Chris Horner updated his whereabouts with Usada [the United States Anti-Doping Agency] before the start of the final stage, giving the agency the name of his hotel for the night, phone number and room number for his one-hour window between 6am and 7am. This is all according to the rules and Chris Horner received a confirmation e-mail.
Team seeks compensation
"The anti-doping inspectors from the Spanish Anti-Doping Agency that were asked to do the test by the United States Anti-Doping Agency showed up at the wrong hotel in Madrid, where the team was staying, but Horner was obviously not to be found.
"The team believes the communication between the Spanish Anti-Doping Agency and the media is a violation of the privacy of Chris Horner, especially since it comes down to a clear mistake by the tester. The team will seek compensation for this matter with the responsible anti-doping agencies."
RadioShack-Leopard released both the e-mail Horner sent to Usada detailing his change of hotel and the e-mail he received confirming the change had been registered. Sent at 10.03am BST on September 15, the confirmation e-mail said: "Your information was received on 9/15/2013 and will be added to your record. We will contact you if we need any additional information related to this update."
News of the incident emerged in Spanish media on Monday morning. It is understood the testers also went to a second hotel, where Horner was also nowhere to be seen.
Horner flies to US
However, RadioShack-Leopard press officer Tim Vanderjeugd tweeted: "The second hotel they went to was a randomly picked Ibis where they thought he could be."
If Horner's explanation is not accepted under anti-doping rules, the missed test will be counted as a "no show", with three no shows in an 18-month period resulting in a ban.
Horner became the oldest Grand Tour winner in history by completing a 37-second victory over Italy's Vincenzo Nibali on the final stage into Madrid.
It is understood he boarded a plane to the United States on Monday morning.