Sir Bradley Wiggins: I'd have rather crashed than miss out on Tour of Britain stage 3 win
Sir Bradley Wiggins would have rather crashed than not win stage three of the Tour of Britain.
Last Updated: 17/09/13 7:27pm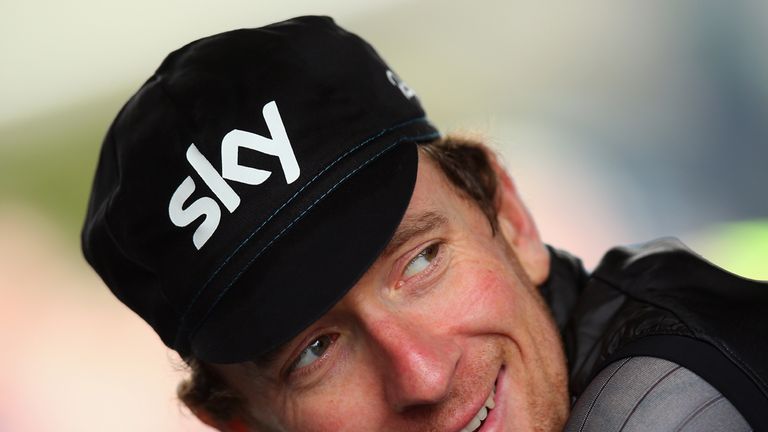 The 33-year-old Team Sky rider stormed to a superb, 36-second triumph on a 16km course around Knowsley Safari Park and now leads the race overall by 37 seconds from team-mate Ian Stannard, who was also second on the day.
His virtuoso display put him in pole position to win the gold jersey in London on Sunday and also made a huge statement about his credentials ahead of the world time trial championship in Tuscany next week.
"I had to win today, whatever," Wiggins said. "The conditions weren't ideal for me, but I thought I would rather end up in hospital today than be beaten.
"I didn't flinch on the roundabouts in the wet, and fortunately the hospitals are close to where I live, so my wife could have visited me. I was prepared to end up in hospital than lose the race today. It went perfect."
Pressure
The victory came after a long summer of time trial-specific training geared specifically towards this stage of the Tour of Britain and the world championships.
He had researched the route in intimate detail and admitted he had no excuses for not winning.
"When I was out of the Tour [de France] and training in June and July, I was here," he added. "This was my motivation, these were the things that kept me going: the world championships, the Tour of Britain and winning this time trial on home soil.
"I put pressure on myself, my own expectation. I wanted to win. That leads to pressure, but then I thrive off that, especially in this discipline."
Worlds unpredictable
Despite the result, Wiggins refuses to accept he is now clear favourite to win the world time trial championship.
He is set to come up against reigning champion Tony Martin and four-time winner Fabian Cancellara on a flat, 57.9km course in what is widely expected to be one of the most closely fought battles for the rainbow jersey in years.
However, Wiggins said: "I think time trialling is so difficult to say there is a favourite. Obviously, there are probably three guys everyone knows are going to come away with the medals on a good day - we could be in any order.
"I think it just depends on how our preparation goes. Everything I have done since June has been about preparing for an hour-long time trial. This [at the Tour of Britain] was 20-odd minutes.
"Everything is on track for the worlds, barring any more crashes or any more severe weather like yesterday and getting sick, but as we get further south that is meant to get better.
Brailsford delighted
"Physically, I feel I'm ready to go. I always say these things, but I'm in better shape than I have ever been before, especially for the discipline."
Team Sky principal Sir Dave Brailsford was full of praise for Wiggins's performance.
"That was pretty much ideal," he said. "It is always difficult when you have challenging conditions and miserable weather.
"But Brad has been concentrating well and he came to this race with serious intent. He has applied himself fantastically. It was a short time-trial here, but the time was a good one and it will please Brad.
"It bodes well for the next few days. There is a lot of hard work to do but we are in a good place and that's where we wanted to be."