Chris Froome admits his body failed him in 'grim' world championship road race
Chris Froome admitted it wasn't his day after abandoning world road race in Tuscany.
Last Updated: 30/09/13 9:28am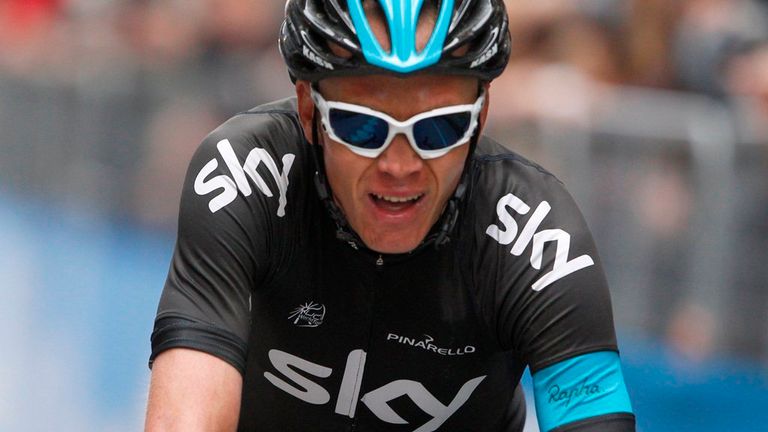 The Great Britain team leader abandoned the 272.2km marathon with just under 100km remaining after being dropped by the peloton on a day marred by torrential rain and treacherous road conditions.
None of the eight British riders finished the race and Froome admitted afterwards that both a lack of race condition and the weather had been key factors in his downfall.
"At the end of the day I just didn't have it," he said. "I was feeling blocked up and all stiff through my back, I think from trying to grip on to the brakes. It was a really grim day out there today.
"After two laps there were only a couple of us left from GB. Everyone else had crashed, punctured or abandoned already. It just wasn't to be for us today but it was really sketchy out there.
'Disappointing'
"This has been a really big target for me. I have trained really hard for this. It is disappointing."
The race started in heavy rain in Lucca and the downpour continued as the riders reached Florence for ten laps of a 16.6km finishing circuit.
The wet roads resulted in an endless stream of crashes, with Cadel Evans, Vincenzo Nibali and Rigoberto Uran among those who hit the deck.
Froome added: "It was a tough race out there and really dangerous once we reached the circuit. The roads were really slippery and the rain has just been relentless today."
By the time Froome abandoned, all but Geraint Thomas from the British squad had already climbed off their bikes.
Sir Bradley Wiggins left the race early after being dropped on a wet descent and failing to rejoin the peloton.
Ellingworth angry
Coach Rod Ellingworth afterwards scolded the riders for failing to do the British jersey justice.
"We should be very disappointed," he said. "The lads' attitude wasn't where it needs to be, to be honest. I'm not sure they really took this on thinking it was going to be as hard as it actually was.
"With the weather, we knew it was going to be pretty tough. I am very disappointed in the whole team performance.
"Chris said he struggled with the cold and the rain, but it is the same for everybody. That's what makes the worlds what it is.
"All of them sat on the bus with 100km to go is very disappointing. Luke [Rowe] and Cav [Mark Cavendish] were average, the other guys were well below average.
"I'm sure Brad will be disappointed with his performance. It is not as if he didn't have the form. He had the same problem as he had in the Giro: he couldn't get down the hill, went out the back and was gone."